Laura England engages community in sustainability initiatives
England, a lecturer with the Appalachian State University Department of Sustainable Development and chair of the Sustainability Council's Outreach Subcommittee, strives to involve the community in her work. In her role with the council, she coordinates the semi-annual adopt-a-stream events, hosted a biannual forum on faculty / staff outreach in sustainability and led efforts to develop a new grants program for sustainability outreach.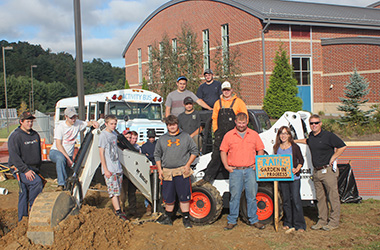 Additionally, she spearheaded a rain garden initiative at Watauga High School by partnering with other App State faculty, the high school, North Carolina Cooperative Extension and Mountain Alliance. The project highlights the multiple benefits of using green infrastructure to manage runoff from paved areas. The group first secured support from Watauga County Schools and the high school administration and obtained $4,500 toward the project from Watauga Soil & Water. They then identified the best site for the garden, developed a design and secured more than $2,000 in donations of native plants from local nurseries. Students attending classes at the high school helped with final construction.

Public Relations students partner with Western Youth Network
The Appalachian State University Public Relations Student Society of America (PRSSA) in the Department of Communication teamed up with the Western Youth Network to promote their "Change WYNs" campaign, which aims to eradicate child abuse in the High Country through awareness. Together, they began brainstorming ideas for the campaign in December and were tasked with promoting the "Change WYNs" campaign on Western Youth Network's social media accounts and spreading the word in person on campus. As part of their work, students provided new ideas and perspectives for the campaign and created blue paper cut-outs of hands to show the community coming together to raise awareness about child abuse in Watauga County.

Graduate students and faculty build solar-powered sign lighting system
During fall 2015, graduate students and faculty from the Department of Sustainable Technology and the Built Environment at Appalachian State University designed and installed a solar-powered sign lighting system for Stick Boy bakery in downtown Boone. The innovative system collects solar energy during the day, stores it in batteries and then uses this energy to automatically power 12-volt DC LED lights to illuminate the sign at night. The lights automatically activate at dusk and shut off at dawn.