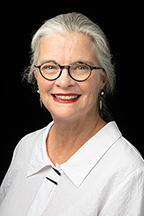 Greetings! I would like to extend a warm welcome from the College of Fine and Applied Arts, which consists of seven departments including Applied Design, Art, Communication, Military Science and Leadership, Sustainable Development, Sustainable Technology and the Built Environment and Theatre and Dance. Our college offers students the opportunity to truly experience their education with an incredible range of innovative programs embracing disciplines as diverse as Electronic Media and Broadcasting, Agroecology and Sustainable Agriculture, Commercial Photography, Sustainable Technology, Theatre Education and more.
As one of the most unique colleges at Appalachian, the concepts of sustainability, communication, technology, creative practice and design define us.
These opportunities provide an exciting and stimulating learning experience, partnering students with leading scholars and immersing them in our large and diverse student community. The college boasts an extraordinary group of faculty and students whose research is unique, cutting edge and recognized on international and national levels. It is this very creative and innovative thinking coupled with hands-on learning that will provide you the knowledge, skills and experiences to succeed in the highly competitive global job market.
But in the end, it comes down to people. As interim dean and a professor in the Department of Communication, I am continuously inspired by our amazing students and committed faculty and staff. Our students travel together and collaborate on creative research projects in a supportive and respectful environment. I invite you to find out how you can experience your education with the College of Fine and Applied Arts by exploring our unique programs and offerings, scheduling a visit or contacting us for more information.
Janice Pope, Interim Dean
College of Fine and Applied Arts
Records and Student Support
Mr. Mark Miller


Records Specialist Supervisor
828-262-3036
millermh@appstate.edu
Serves students with last names A-F

Ms. Beth Brittain
Student Support Specialist
828-262-3037
brittanbm@appstate.edu
Serves students with last names N-Z

Ms. Amy Miller
Student Support Specialist
828-262-8033
milleral2@appstate.edu
Serves students with last names G-M
Office Location
The College of Fine and Applied Arts Dean's Office is located in Edwin Duncan Hall (map)
Contact Information
Office: 828-262-7129
Fax: 828-262-6312
Mailing Address
College of Fine and Applied Arts
ASU Box 32060
Boone, NC 28608