By Nancye Edwards
The Women's and Inclusive Theatre Troupe (WITT) at Appalachian State University presents the world premiere of "Phylis Kugler, Eat Your Heart Out" written by Appalachian alumna Bridget Mundy '16. The show runs Feb. 9–10 at 7:30 p.m. in the I.G. Greer Studio Theatre on campus. Ticket prices are $5 for students and faculty and $6 for the general public, and will be sold at Plemmons Student Union Feb. 6–10 from 10 a.m.–2 p.m. Tickets are also available for purchase at the door of the theater before each performance.
Directed by TJ Lewis, a senior theatre performance major from Winston-Salem, the show features students in a variety of majors ranging from social work to history education theatre arts. Jaraad Samad, a senior English major from Raleigh, is the assistant director of this production and Rachel Scherer, a junior technical theatre major from Athens, Ohio, is the stage manager.
"Phylis Kugler, Eat Your Heart Out" involves a cast of nine Appalachian students: Koria Johnson, a sophomore social work major from Pinehurst, Anna Allman, a junior history education major from Durham, Virginia Riggsbee, a sophomore general theatre major from Mooresville, Karina Galiano, a senior theatre arts major from Annandale, Virginia, Leia Gearhart, a senior English major from Garner, Breanne Hollis, a sophomore theatre arts major from Apex, Kenny Petroski, a senior theatre arts major from Davidson, Logan Frazier, a sophomore English major from Cary, and Krystopher Paschen, a junior theatre arts major from Maiden.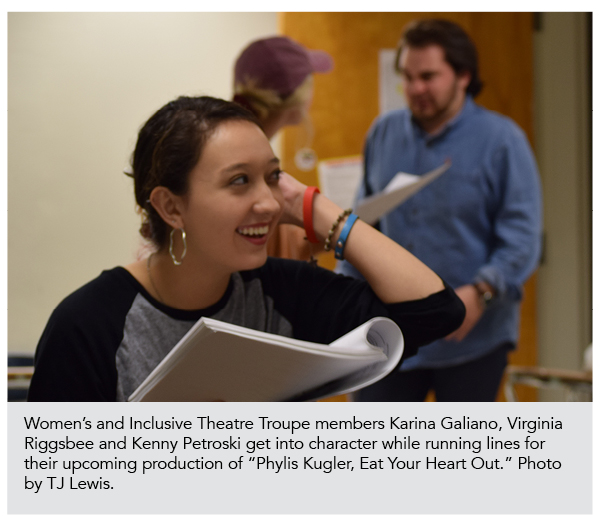 WITT encourages students to explore the arts, giving technical theatre and performance opportunities. "Phlyis Kugler, Eat Your Heart Out" is the troupe's fifth consecutive production, and the first since December of 2015 when the troupe presented the smash hit comedy "Five Women Wearing the Same Dress" by Alan Ball.
Set in lower Manhattan in 1954, six women find refuge from the outside world in the boxing gym of a Jewish-Polish male immigrant by the name of Frank. Though the women come from a range of backgrounds, their love for the sport of boxing brings them together and helps them face the obstacles life throws at them.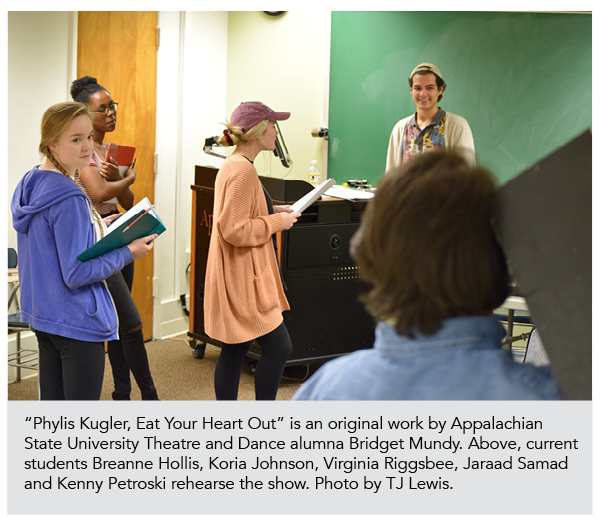 The production explores themes ranging from the marginalization of minorities to the unity of women. The issues presented in the piece reflect the questions of today's society, holding relevance and significance to all audience members. "One day we were blocking a scene," said Lewis, "and out of nowhere I stepped back and realized the scene could be interpreted in a way that questions what the binary of gender is, and how people self-identify with different labels. All I could think of was, 'wow, there are so many ways audience members can connect to this show… that's amazing!'"
The show reflects the issues women faced in the 1950s, providing unique parallels to many of the obstacles women face in current society. "Exploring the dynamics and depth of these women as they interact with one another while immersed in a world that is so far away, and also so much like the world we live in today, is just something I think will captivate anyone," said Lewis.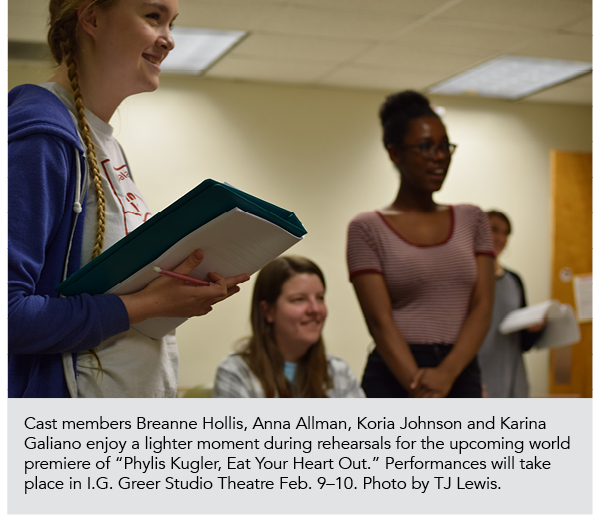 For more information about the show, email asuwomenstroupe@gmail.com.
Media Contact:
TJ Lewis
lewistj@appstate.edu
About the Department of Theatre and Dance
The Department of Theatre and Dance is one of seven departments housed in Appalachian's College of Fine and Applied Arts. Its mission is to facilitate transformative experiences for students and the public, which cultivate compassionate, creative and collaborative communities through theatre and dance. The department also offers coursework for integrated learning through the arts to the general university student population. Its dynamic co-curricular production program provides exemplary theatre and dance experiences to departmental students, the university community and the region.
About Appalachian
Appalachian State University, in North Carolina's Blue Ridge Mountains, prepares students to lead purposeful lives as global citizens who understand and engage their responsibilities in creating a sustainable future for all. The transformational Appalachian experience promotes a spirit of inclusion that brings people together in inspiring ways to acquire and create knowledge, to grow holistically, to act with passion and determination, and embrace diversity and difference. As one of 17 campuses in the University of North Carolina system, Appalachian enrolls about 18,000 students, has a low student-to-faculty ratio and offers more than 150 undergraduate and graduate majors.
About the Women's and Inclusive Theatre Troupe
The Appalachian Women's and Inclusive Theatre Troupe (WITT) is a student-run performing arts organization at Appalachian State University. Founded in 2012 by Appalachian State alumna Carmen Laurence, the troupe promotes theatre experience, develops opportunities for women and other minority groups, and advocates for the rights of women and minorities in productions at Appalachian State University and in the High Country. In 2016, the theatre troupe modified its name from the "Women's Theatre Troupe" to the "Women's and Inclusive Theatre Troupe" thereby promoting an all-encompassing advocacy group for the High Country.
The group sponsors student directed shows, programs, and social events. Along with bi-weekly meetings, the troupe produces fundraisers to support local and non-local charity organizations, facilitates scheduled projects and workshops of interest to group members, and supports group trips to view live productions at other theaters.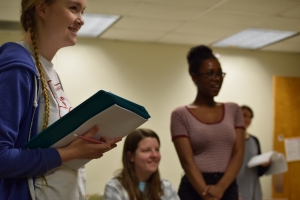 Tags: