Boone—Last month, the Appalachian State University Public Relations Student Society of America (PRSSA) teamed up with the Western Youth Network to promote their "Change WYNs" campaign, which aims to eradicate child abuse in the High Country through awareness. Through their work with this campaign, the students received Pacesetter recognition from the national PRSSA chapter, which honors the club's outstanding efforts in community development for the month of April.
The students in PRSSA worked with Western Youth Network interns Aki Regan and Cierra Flanders, who are also public relations majors at Appalachian. Together, they began brainstorming ideas for the campaign in December and were tasked with promoting the "Change WYNs" campaign on Western Youth Network's social media accounts and spreading the word in person on campus. As part of their work, students provided new ideas and perspectives for the campaign and created blue paper cut-outs of hands to show the community coming together to raise awareness about child abuse in Watauga County.
Jenna Martin, a senior Public Relations major in the Department of Communication and vice president of the university's PRSSA chapter, said the campaign was a wonderful learning experience. "It was helpful to learn more about organizing a large group of people to get things done correctly and efficiently," she said. "Campaigns have a lot of moving parts, and good communication and keeping everyone on the same page is essential."
The Appalachian PRSSA chapter, led by faculty advisor Dr. Sang-Hwa Oh, is housed in the Department of Communication within the College of Fine and Applied Arts. PRSSA is the foremost organization for students interested in public relations and communications.
The Western Youth Network works to help disadvantaged kids in this area reach their full potential through mentoring, after school care and prevention programs. Its vision is to create a community in which every child, regardless of circumstances, thrives.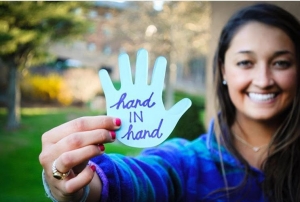 Tags: