By Anna Rhodes
On Feb. 23, Tony Award-winning actress Beth Leavel led a performance master class for eight theatre arts majors at Appalachian State University's Valborg Theatre with the goal of helping participants prepare for future auditions. The campus community and public were invited to observe the class to learn more about the industry and her career.
Leavel is best known for portraying the title role in the musical "The Drowsy Chaperone." She has also starred as Florence Greenberg in "Baby, It's You," as June Adams in "The Bandstand," as Emily in "Elf" and as Donna in "Mamma Mia!," among many other Broadway roles.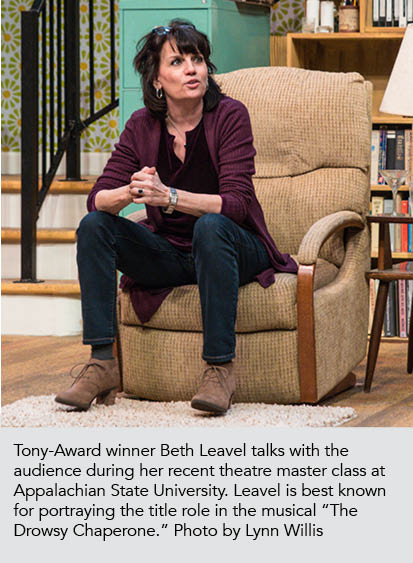 She enjoys the opportunity to share her skills and appreciates the energy and optimism students exhibit.
"I have such passion for what I do and that's one of the reasons I love to come teach. It renews that passion," she commented. "To see [students] reflecting where I started…to feel that again is priceless."
During the class, Leavel watched and critiqued each performance. Virginia Riggsbee, a junior general theatre major from Mooresville, was thrilled for the opportunity.
"Meeting and working with Beth was an experience I will never forget! She was hilarious and authentic, which made it comfortable to get onstage and work with her. During the workshop, she told me to 'stop editing myself' which really stuck with me. I have a tendency to do that and I will take that advice with me from now on."
Mackenzie Smith, a senior theatre performance major from Concord, performed a song for Leavel.
"Meeting Beth holds a special place in my heart! She quickly became a role model to me after I got the part of Beatrice Stockwell in the production of "The Drowsy Chaperone" put on by the Musical Theatre Club here at Appalachian. Meeting her was like looking in an enchanted mirror – she's done all the things I've wanted to do professionally and personally while still holding onto her confident, sassy and unabashed spirit."
Lily Jordan, a sophomore theatre performance major from Charlotte, also sang for Leavel.
"Beth taught me how to dive into the song and let the reality of the piece set in. At the Q&A afterwards, she said if you have passion for what you're doing then you should go for it. I know this is the career for me, and she encouraged me to chase it no matter what."
Parker Stone, a junior theatre performance major from Charlotte, performed a monologue from "Lips Together, Teeth Apart."
"As an actor, I value when a scene partner is open with me. When Beth had me perform my monologue as a scene with her, she was every bit as open with me as I was being with her. It showed me that complete strangers can share a real, emotional moment together through acting. It was a fantastic experience for me and it reminded me why I love my craft."
Roy Dale Cox, a junior theatre performance/political science major from Birmingham, AL, sang for Leavel as well.
"Getting the opportunity to meet Beth Leavel was a dream. She encouraged me by affirming some of my choices I had made in my work, which made me feel fantastic. As an actor, it was reassuring to know I have been progressing in my career at Appalachian and it shows in my craft. One thing that stood out to me from her master class was how she can't read music and doesn't necessarily consider herself a dancer. But that hasn't stopped her from being successful. For years I have struggled with both of these and felt, because of it, there wasn't a place for me in this industry. After hearing her story, she gave this Bama boy hope."
Morgan White, a junior theatre performance major from Elizabeth City, was the last student to perform for Leavel.
"I loved the experience! Beth was so sweet and kind, but gave honest feedback that was super helpful. I was honored to be given this opportunity!"
Eileen Dixon, a junior theatre performance major from Mocksville, and Mary Sass, a junior theatre education major from Raleigh, also performed for Leavel. After the event, several students commented about the helpfulness of the class. The resounding response has been "bring Beth Leavel back to Appalachian!"
About the Department of Theatre and Dance
The Department of Theatre and Dance is one of seven departments housed in Appalachian's College of Fine and Applied Arts. Its mission is to facilitate transformative experiences for students and the public, which cultivate compassionate, creative and collaborative communities through theatre and dance. The department also offers coursework for integrated learning through the arts to the general university student population. Its dynamic co-curricular production program provides exemplary theatre and dance experiences to departmental students, the university community and the region.
About Appalachian State University
Appalachian State University, in North Carolina's Blue Ridge Mountains, prepares students to lead purposeful lives as global citizens who understand and engage their responsibilities in creating a sustainable future for all. The transformational Appalachian experience promotes a spirit of inclusion that brings people together in inspiring ways to acquire and create knowledge, to grow holistically, to act with passion and determination, and embrace diversity and difference. As one of 17 campuses in the University of North Carolina system, Appalachian enrolls about 19,000 students, has a low student-to-faculty ratio and offers more than 150 undergraduate and graduate majors.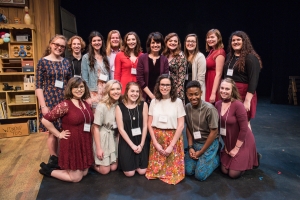 Tags: