By Nancye Edwards
The Department of Theatre and Dance at Appalachian State University will present the 2017 Spring Appalachian Dance Ensemble (SADE) at 7 p.m. March 29–April 1 in the Valborg Theater on the university campus. SADE is an opportunity for dance faculty and students to showcase their talents through both choreography and performance. Ticket prices are $10 for students and $17 for adults.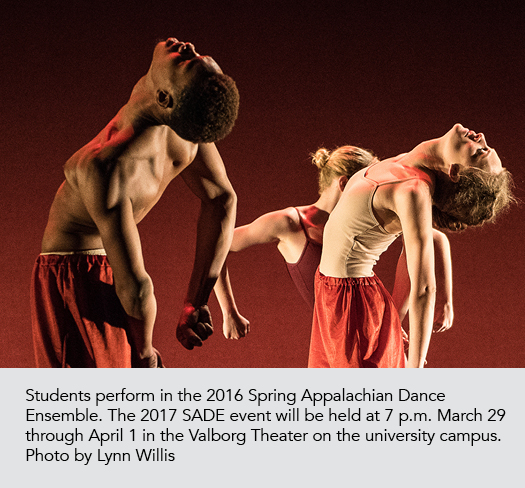 The event features eight original works created by guest choreographers, Appalachian faculty and students. Faculty choreographers include Regina Gulick, senior lecturer of dance studies, and Kevin Warner, chair of the Theatre and Dance Department. Student choreographers are Roberto Bell, a junior dance studies major from High Point; Victoria Buwick, a junior public relations major from Matthews; E.C. Fajardo, a senior dance studies major from Virginia Beach, Virginia; and Bronwyn Weismiller, a junior commercial photography and dance studies double major from Greenville.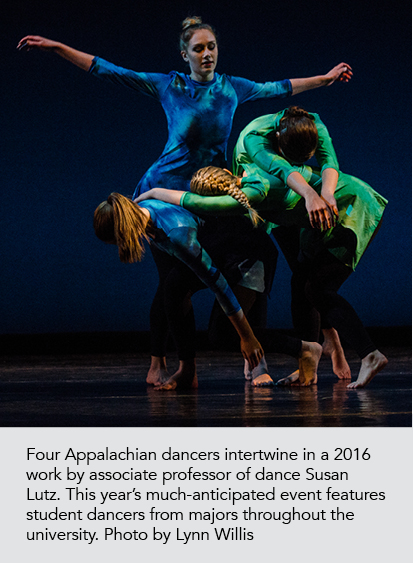 This year, Appalachian will host two guest choreographers, Dante Brown, choreographer and educator at Warehouse Dance in New York City, and Brad Parquette, local dance professional and director of Western Carolina Youth Ballet. Brown is creating original work with a cast of Appalachian students as part of his week-long dance residency at the university March 5–10. Sherone Price, associate professor of dance studies, serves as the rehearsal director through the run of the show.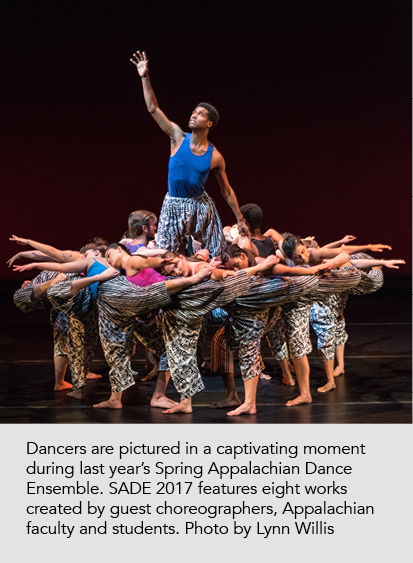 "The department brings people in from outside the university," says Warner, "giving our students the opportunity to hear and see the perspectives, vocabulary and styles of artists from various backgrounds."
The event will feature a variety of upbeat dance styles from ballet to modern dance. For example, Warner's work incorporates a "theatrical bent." Sarah Hase, a junior sustainable development major from Spartanburg, S.C., performs in Warner's piece, describing the work as a "Middle Eastern inspired folk dance with an exciting and energetic final song."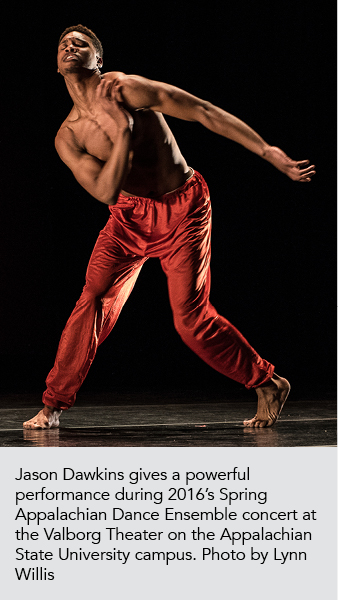 This much-anticipated event provides involvement opportunities for all majors, encouraging students to engage in dance whether through choreography or performance.
"SADE has been an awesome opportunity for me to do what I love and express myself through dance," says Hase. "We all work really hard the entire semester during rehearsals, and it's so rewarding to be a part of a beautiful piece of art."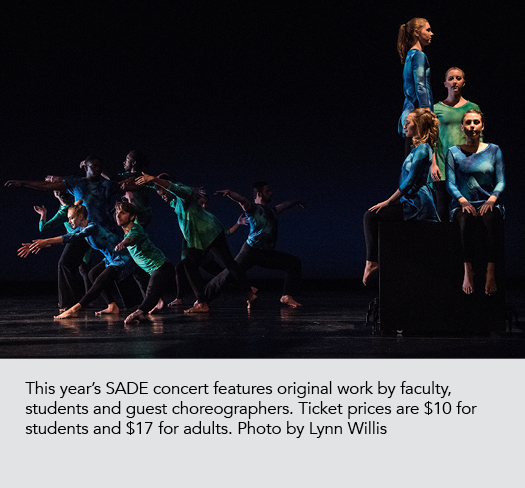 For more information, call the Schaefer Center box office toll-free at 800-841-ARTS (2787), contact the Valborg Theater box office at 828-262-3063, or visit the department website at www.theatreanddance.appstate.edu.
About the Department of Theatre and Dance
The Department of Theatre and Dance is one of seven departments housed in Appalachian's College of Fine and Applied Arts. Its mission is to facilitate transformative experiences for students and the public, which cultivate compassionate, creative and collaborative communities through theatre and dance. The department also offers coursework for integrated learning through the arts to the general university student population. Its dynamic co-curricular production program provides exemplary theatre and dance experiences to departmental students, the university community and the region.
About Appalachian
Appalachian State University, in North Carolina's Blue Ridge Mountains, prepares students to lead purposeful lives as global citizens who understand and engage their responsibilities in creating a sustainable future for all. The transformational Appalachian experience promotes a spirit of inclusion that brings people together in inspiring ways to acquire and create knowledge, to grow holistically, to act with passion and determination, and embrace diversity and difference. As one of 17 campuses in the University of North Carolina system, Appalachian enrolls about 18,000 students, has a low student-to-faculty ratio and offers more than 150 undergraduate and graduate majors.
Media Contact
Keith Martin
Martinkt1@appstate.edu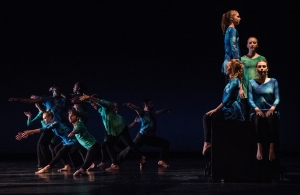 Tags: