Over the last 12 years, Dr. Anatoli Ignatov and Dr. Jacqui Ignatova have been building a relationship with the University for Development Studies in Tamale, Ghana, culminating in a US Embassy grant worth $129,000.
Ignatov and Ignatova came to the Department of Sustainable Development at Appalachian State in 2015. The Sustainable Development program was attractive to Ignatov and Ignatova because they wanted to do transdisciplinary work.
"One of the things we love about our sustainable development program is how it bridges theory and practice. Students can apply what they learn in the real world," Ignatova said. According to Ignatova, App State's Sustainable Development program has become a destination program, attracting students from all over the country.
Building a Partnership with the University for Development Studies
Ignatov and Ignatova have been building their partnership with the University for Development Studies in Ghana for 12 years, which goes back to their time in graduate school. In 2012-13 Ignatova received a Fulbright Award to support her doctoral work in Ghana, and in 2017-18, Ignatov also received a Fulbright Scholar Award, which further supports the partnership between App State and UDS. In April 2019, this partnership supported a visit from Dr. Edward Salifu Mahama, the Dean of the Faculty of Communication and Cultural Studies at UDS.
According to Ignatov, this rural-to-rural partnership is unique given the University for Development Studies' and Appalachian State University's locations in marginalized rural areas of their respective countries (northern Ghana; southern Appalachia) that serve many underrepresented students and offer rich cultural heritage and important insights into the relationships between culture, sustainable development, and food security.
The UDS-App State collaboration has garnered the support of the US Embassy and the Fulbright Program in past years due to these shared concerns about how to address enduring patterns of historical underrepresentation and marginalization of Northern Ghana and Appalachia.
This unique focus of the partnership also advances Appalachian State's commitment to diversity and inclusion while offering an example to partners in Ghana of a campus model of sustainability that promotes broader community development.
Although Covid-19 temporarily stymied faculty exchanges, App State and UDS submitted a grant in 2020. This grant was rejected, but the grant proposal put them on the radar with the US Embassy, which helped them get a new grant in 2022.
This is a University Partnership Initiatives (UPI) grant, which funds exchanges between App State and UDS. With more funding, the partnership now focuses on faculty exchanges, student exchanges, collaborations, resourcing strategies, sharing institutional models/lessons, and building networks and personal connections.
Ignatov and Ignatova are planning to take a cohort of faculty, administrators, and community resilience leaders to Ghana in January 2023 for a two-week visit. They will discuss food security and sustainable agriculture, conflict and development communication, and climate resilience and health.
In exchange, seven members of UDS will travel from Ghana to App State in May 2023. This will include Dr. Mamudu Akudugu, the Deputy Director of the Institute for Interdisciplinary Research at UDS. Dr. Akudugu will be a Fulbright Scholar-in-Residence at App State in Spring 2023.
Three students from App State have already visited Ghana in 2019 to take part in the UDS Third Trimester program, which enables Ghanaian students to live and work for eight weeks in selected rural communities and use participatory approaches in order to identify resources and lasting solutions to development problems. Ignatov and Ignatova are planning to bring ten students to Ghana as part of a Sustainable Development study abroad program in July 2023. Eventually, with the support of the US Embassy grant, they hope to develop a shared curriculum and joint certificate program.
Their Trip to Ghana
Ignatov and Ignatova recently spent six months in Ghana from Jan. 10 – July 31.
"We are so grateful to our department, our Dean and our university for letting us go on sabbatical simultaneously," Ignatova said.
During their trip, Ignatov and Ignatova continued to pursue a series of research projects. One highlight of the trip came when they got the opportunity to meet and share their research with Virginia Palmer, the United States ambassador to Ghana. Ambassador Palmer also attended a talk that Ignatov gave to US Embassy officials on July 28, which focused on the causes of land conflicts in Ghana.
Ignatov's research, which was supported by a Ghana Fulbright Scholar grant (2017-2018), examines contemporary conflicts over land ownership in Northern Ghana. Land in Ghana is currently governed by a plural legal system, where customary and statutory systems overlap.
The 1979 Constitution handed back land in the North to its "traditional owners," opening possibilities for earth priests, chiefs, families, and individuals to re-interpret the language of the Constitution and claim ownership.
Drawing on years of field research in Ghana, Ignatov's research project examines these conflicts, not only as struggles over access to "resources" and land, but also as conflicts over law, authority, identity, and power. Ignatov's research aims to contribute to policy and scholarly debates about land governance in Africa.
In addition to launching her second project on women's livelihoods connected to wild trees in the Upper East region of Ghana, Ignatova delivered book talks at the University for Development Studies and for the Fulbright community in Accra on her book "Contesting Africa's New Green Revolution: Biotechnology and Philanthrocapitalist Development in Ghana" (published by Zed/Bloomsbury in 2021).
"It was really exciting to give this talk at UDS because it was the culmination of 10 years of work," Ignatova said. She also donated one of her books to the UDS library.
Ignatova's research focuses on the politics of commercial agriculture. While the expansion of commercial agriculture is beneficial to some parties, there are also negative social and ecological consequences. For instance, shea trees that many women in northern Ghana source their livelihoods from have been felled in order to make way for commercial farming plots.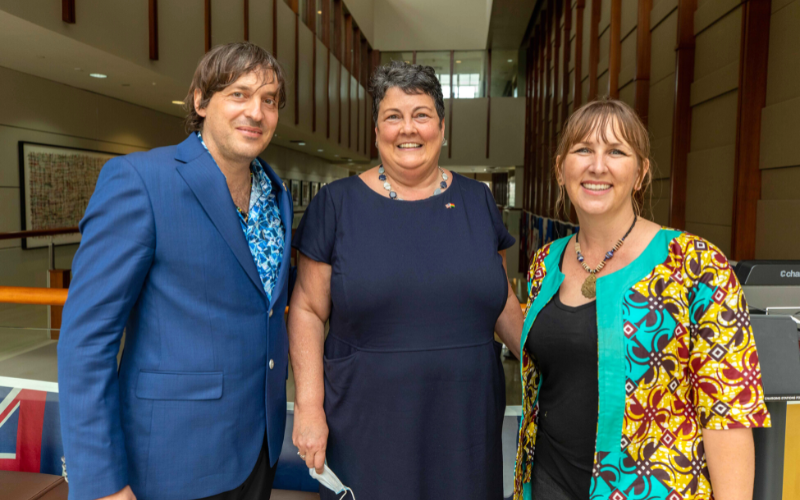 Dr. Anatoli Ignatov (left) and Dr. Jacqui Ignatova (right) stand with Virginia Palmer (center), the United States ambassador to Ghana.
Looking Forward
Ignatov and Ignatova are both looking forward to continuing their research and fostering the partnership with UDS. But more than that, they are excited to see their students succeed.
"Students who choose this major really want to change the world," Ignatov said about sustainable development. "I'm always happy to see our students be successful and stick to their beliefs once they graduate. It's been great to follow their trajectories."
While the partnership with UDS brings a global perspective to the Department of Sustainable Development, Ignatov and Ignatova work to showcase to Ghanaian partners' community organizations in Appalachia that provide leadership in sustainability and food security, like the F.A.R.M. Café, High Country Food Hub, and Blue Ridge Women in Agriculture. They invite the Appalachian community to be involved with welcoming their Ghanaian partners to campus in May 2023.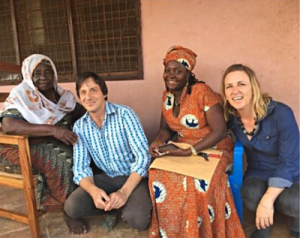 Tags: