Ryan Gillespie, a senior Sustainable Technology major, is passionate about what he calls "responsible transportation." Over the last year, Gillespie has received four grants from the Office of Student Research at Appalachian State and used the funds to build an electric bike. The electric bike is similar to a standard bicycle in that the rider retains the ability to pedal, but it also includes a motor to help propel riders. By pedaling and motoring, riders can bike more than 25 miles per hour.
In January, Gillespie and fellow students Nicholas Stover and Michael Duignan were awarded an additional $2,000 from the Clinton Global Initiative to build two more bikes and conduct a small usage study among faculty, staff and students. The e-bikes used in this study are powered by rechargeable lithium batteries, which provide a simple and sustainable energy source.
Gillespie's goal is to help revolutionize the way citizens commute by gathering information over a 6-month period, and apply this data to facilitate a local e-bike rental service. He'll measure user data including speed, distance, power use and GPS location and compare this information with participants' preferred methods of transportation. Gillespie anticipates that the findings will be enough to convince the town, the university or both to adopt some form of e-bike rental service in the near future.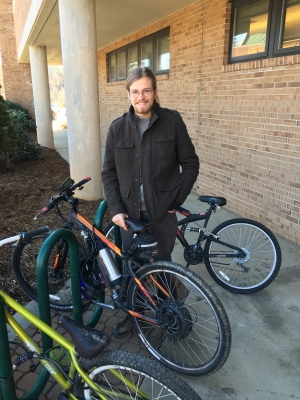 Tags: