IlaSahai Prouty, assistant professor in the Department of Art, is determined to expand the dialog about race and stereotypes at Appalachian State University. Her recent art installation, "Paper Bag Test – Boone," was designed to present race as a social construct and engage students, faculty, staff and the community in thinking about how words describe, imply and evaluate race. The paper bag test is said to have been used to evaluate who might be admitted into certain African-American clubs, organizations and parties. People darker than a paper bag were welcome while those lighter were directed to others.
As a bi-racial woman, Prouty lives with the question of how race is constructed in our culture. Her recent work is driven by the themes of identity, power, repetition and dreaming. In addition to encouraging the community to think more deeply about race, Prouty asked viewers to reflect on how they see their own skin tone and the skin tones of others, and to present race as a social, as opposed to a scientific, construction. Prouty's "Paper Bag Test" has been hosted at Greensboro College, High Point University, East Tennessee State University and The Massachusetts College of Liberal Arts. She is planning to create a book using the comments and selfies provided by participants from the various installations.
Prouty received her MFA from the California College of Art in the Bay Area. She teaches Art for Social Change, Senior Studio and other courses. She is co-author of three books about experiential education, and trains people on facilitation techniques through Project Adventure Inc.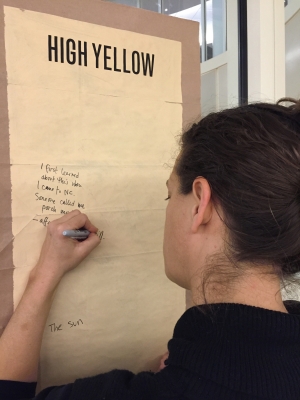 Tags: