Brent Summerville, a sustainable technology practitioner-in- residence in the Department of Sustainable Technology and the Built Environment, has been hooked on renewable energy since graduating from North Carolina State University. He was recently tapped by the U.S. Army Corps of Engineers to install a wind measurement system the Kerr Scott Dam in Wilkesboro, North Carolina. The purpose of the measurement system is to determine whether it is a viable location for a wind turbine.
It took Summerville and Robb O'Brien, a graduate student, about two weeks to build the measurement system in February 2016. The custom system consists of a 15-foot tower, with anemometers at varying heights to measure wind speed, a wind vane to measure the direction of the wind and a thermometer for gauging the temperature. The installation is connected to a solar powered data logger that will transmit the information to the U.S. Army Corps of Engineers. Summerville said it should take about a year to determine whether it would be worthwhile to build a wind turbine on the dam. "Obviously with things like this, the longer you compile data, the better your results will be," Summerville said. "But of course you have to stop at some point, so it'll probably be around 12 months."
Summerville has a B.S. in mechanical engineering from North Carolina State University and a master's in appropriate technology from Appalachian State University. Prior to his role as practitioner-in- residence, he served as technical director of the Small Wind Certification Council and in the manufacturing engineering industry.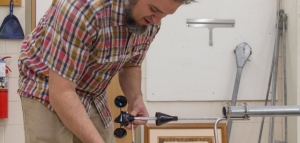 Tags: