By Amanda Brasier
Realizing that covering sporting events was a potential career path was one of Kaiden Smith's "aha" moments, finding a way to blend his natural talents of writing and athleticism.
By middle and high school, Smith's teachers had recognized his writing talents, just as the athletics staff at his Lawrenceville, Georgia, high school had recognized his athletic ability.
"Growing up, I always played football, and I enjoy talking about sports. I realized that athletes often feel more comfortable talking to me because I've been on both sides," Smith said. "In middle school, I started out helping write the morning announcements, and then wrote sports stories for my high school newspaper. I knew I wanted to pursue writing in and beyond college, and was recruited to Appalachian to play football."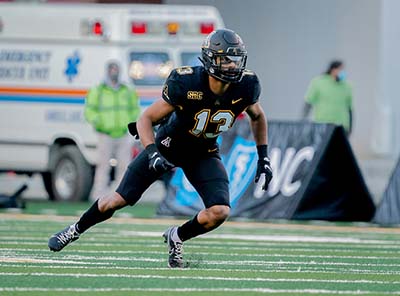 Smith, a fall 2020 graduating Honors Communication-Journalism major, senior sports writer for The Appalachian and defensive back on the App State football team, has been selected as the fall virtual undergraduate commencement speaker for the College of Fine and Applied Arts.
During his time at App State, Smith made the most of his time in and out of the classroom. He defended his honors' thesis "How College Students Perceive the Representation of Women in Sports Media" in the days before graduation; created a sports and pop culture podcast, the 135, with teammate Thomas Hennigan; traveled to China in a summer study abroad trip with the Communication department and wrote several bylined sports articles for The Appalachian.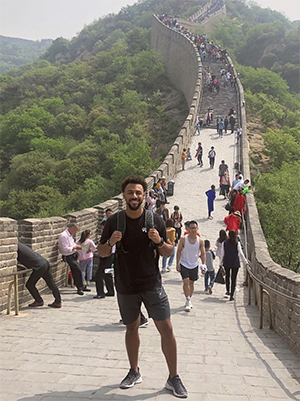 He credits his mom, Maryliza Dejesus, with ensuring that he successfully balanced academics, athletics and extracurricular or experiential learning activities.
"I've been a student long before I was an athlete and my mom was 100 percent the reason that I take my academics seriously," Smith said. "I think the last 'C' I made was in third grade, because she said if I didn't take care of my grades, I wouldn't play. I also want to be seen as more than an athlete. When I introduce myself during a class icebreaker, I usually say, 'I'm Kaiden, and I write for The Appalachian, or I studied advertising and PR abroad in China.' I don't say, 'I'm Kaiden and I play football.'"
Several professors in the Department of Communication helped influence Smith's course of study. He says that he worked closely with journalism professor, Dr. Carolyn Edy, who served as his advisor, and Dr. Greg Perreault, who oversaw his honor's thesis.
"I think the Communication Department does a great job of making its journalism students as versatile as possible," Smith said. "They try to get you behind the camera, taking pictures, videos, editing the footage and how to interview people whether you're on camera or off. I feel like our students are adapting to new things that come up on social media and other platforms and I'm looking forward to evolving on social media so that more people want to read my work."
Smith has already begun that evolution, contributing an article to Uncut: Boone, a site that he co-founded and serves as the director of student-athlete relations. The article addresses the unwelcome response App State Athletics received on social media after posting a Black Lives Matter graphic this summer.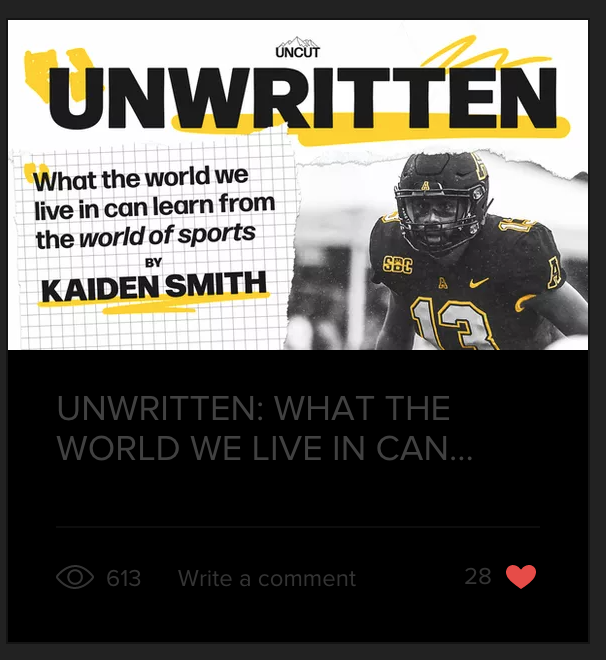 "I've never really gotten into politics or social issues much," Smith said. "However, the events that happened in this country over the summer made me feel compelled to write down the thoughts that were running through my head and use the platform that I have. I've never had an opinion article published, and it felt good to get those thoughts off my chest and off my heart."
In the Uncut article, Smith writes: "I wish the world was more like a sports team, an environment where when adversity hits, we find a way to become closer, not more divided. The world of sports has always been a sacred place where hate has been kept to a minimum, let's keep it that way and transfer that same philosophy not only on social media, but into the real world as much as we can."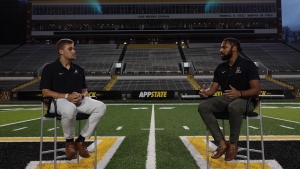 Tags: