Appalachian State University's Department of Theatre and Dance is currently performing "The Laramie Project," a moving play about the reactions of a town after 21-year old Matthew Shepard was brutally killed because of his sexuality.
Appalachian junior Heather Locklear, a theatre performance major from Indian Trail, is playing multiple roles during the production.
"I play a total of seven different roles in the show," she shared. "There are more than 60 characters in the show and only 10 actors, so each of us play many different roles. I play Barbara Pitts, Zackie Salmon, Zubida Ula, Trish Steger, Sherry Aanenonson, and a few other roles."
Locklear also mentions that she was drawn to the play because of the "importance of its message."
The production examines the reactions of the townspeople to Shepard's horrific murder.
According to Locklear, some individuals attempted to distance themselves from what happened, while others thought they needed to own what happened and recognize that hate is happening right in their own backyard.
The result is a thought-provoking play that will leave the audience gripped with emotion from beginning to end.
"This production promotes dialogue on topics such as equality and justice. I think the show is also important in examining how communities construct narrative and prompt conversation in the midst of chaos," Locklear said. "Long story short, this show is important and its message will always be relevant. It touches me very deeply and every rehearsal never fails to move me to tears, no matter how many times I have heard the words of the play."
There is no performance on Oct. 6. Instead, there will be a candlelight vigil at 7 p.m.n remembering Matthew Shepard and all victims of hate. The event, organized by Appalachian's Henderson Springs LGBT Center, will be held in the Parkway Ballroom of Plemmons Student Union.
by Caroline Lubinsky
About the Department of Theatre and Dance
The Department of Theatre and Dance is one of seven departments housed in Appalachian's College of Fine and Applied Arts. Its mission is to facilitate transformative experiences for students and the public, which cultivate compassionate, creative and collaborative communities through theatre and dance. The department also offers coursework for integrated learning through the arts to the general university student population. Its dynamic co-curricular production program provides exemplary theatre and dance experiences to departmental students, the university community and the region.
About the College of Fine and Applied Arts
Appalachian State University's College of Fine and Applied Arts is a dynamic and innovative group of seven academic departments, bringing together a variety of perspectives, experiences and real-world education to provide unique opportunities for student success. The college has more than 3,000 undergraduate and graduate majors. Its departments are Applied Design, Art, Communication, Military Science and Leadership, Sustainable Development, Sustainable Technology and the Built Environment, and Theatre and Dance.
About Appalachian State University
Appalachian State University, in North Carolina's Blue Ridge Mountains, prepares students to lead purposeful lives as global citizens who understand and engage their responsibilities in creating a sustainable future for all. The transformational Appalachian experience promotes a spirit of inclusion that brings people together in inspiring ways to acquire and create knowledge, to grow holistically, to act with passion and determination, and embrace diversity and difference. As one of 17 campuses in the University of North Carolina system, Appalachian enrolls about 19,000 students, has a low student-to-faculty ratio and offers more than 150 undergraduate and graduate majors.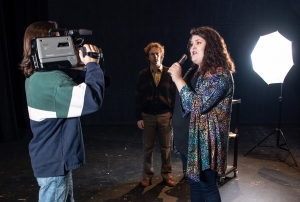 Tags: