Spring Appalachian Dance Ensemble March 29 – April 2, 2023
Eight New Works Showcase Student and Faculty Choreography

BOONE, NC – The Department of Theatre and Dance (T&D) at Appalachian State University proudly presents the 2023 Spring Appalachian Dance Ensemble (SADE). The production takes place in the Valborg Theatre on the university campus at 7 p.m. from Wednesday, March 29 through Saturday, April 1 with a 2 p.m. matinee on Sunday, April 2, 2023. All seats are general admission with ticket prices of $17 for adults, $15 for faculty and staff, and $10 for students. For more information, call the Schaefer Center box office at 800-841-ARTS (2787) or visit the website.

SADE is a popular annual dance concert comprised of eight original works in the modern dance genre showcasing a wide variety of dance styles and themes, with each piece created by a different choreographer and their collaborators. SADE is coordinated by Associate Professor Susan Lutz, who notes that Appalachian faculty and students are demonstrating their creative talents onstage in choreography, design, and performance.

Dance Studies faculty members creating original works for the program include Marianne Adams, Regina Gulick, and Lutz herself, along with a piece by Sherone Price and Khalid Abdul N'Faly Saleem with the department's Diyé African Dance and Drum Ensemble.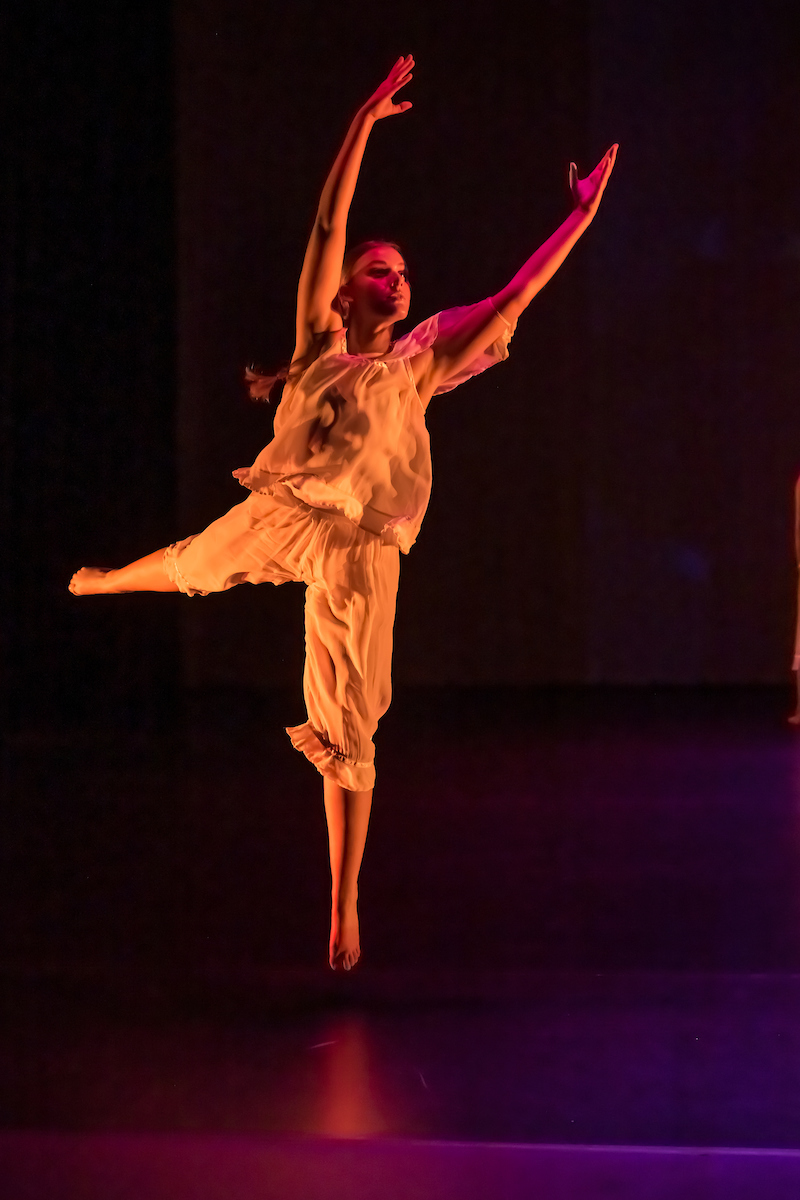 In addition, four talented student choreographers were chosen to stage new works for SADE for a total of eight original dance pieces on the program for your enjoyment. These dance students are Audrey Black, Anissa Gatland, Imajin Graham, and Lyndsay Snider. Professor Lutz says that their works are, "very diverse in style, approach, and music selections; there should be something for everyone in this exciting dance program."

Lutz notes that dance studies faculty member Marianne Adams has created a work that includes guest artist, alumna Annie Young (class of '21) as part of the ten member dance ensemble. In addition, Sherone Price will present a large scale African dance piece, collaborating with Tandrea Carter on choreography and Khalid Saleem as music director. The high energy, inspirational dance will also feature six African drummers on stage as part of the much- anticipated presentation.
T&D faculty and student production designers providing costume and lighting design are Professors Mike Helms and Sue Williams, and student designers Ahmed Al-Khadi, Savannah Carter, Joe Cockrell, Katherine Counter, Meredith Shafer, and Wil Martin.

Tickets are available online through the department website at theatreanddance.appstate.edu as well by phone and in person as the Schaefer Center for the Arts box office. T&D is proudly housed within the College of Fine and Applied Arts at Appalachian, one of seven departments in the college. The box office numbers are 828-262-4046 or 800-841-2787 and their website may be found at www.theatreanddance.appstate.edu.

A full listing of the program for the 2023 Spring Appalachian Dance Ensemble is as follows:

"Undertow"
Choreography by Audrey Black in collaboration with the dancers
Lighting Design by Wil Martin
Costumes from the collection of the Appalachian State University
Department of Theater and Dance
Performed by Alyssa D'Amato, Malia Easler, Alex Fotopoulos, Krista Jirles, Olivia Jones, Megan McCraw

"Keep Pushing On!"
Choreography by Imajin Graham, in collaboration with dancers
Lighting Design by Ahmed Alkhadi
Costumes from the collection of the Appalachian State University
Department of Theater and Dance
Performed by Carson Campbell, Christian Canastuj, Emma Rose Farmer, Olivia Haralson, Naomii Hayes, Lauren Martin

"Stress Reaction"
Choreography by Susan Lutz
Lighting Design by Savannah Carter
Costume Design by Katherine Counter
Performed by Madeline Cefalu, Hannah D'Angelo, Mack Marrow, Megan McCraw, Virginia Roth, Sienna Sigmon, McKenzie Tano, Sophie Ventura, Destiney Wolfe

"Dormiveglia"
Choreography by Anissa Gatland in collaboration with the dancers
Lighting Design by Meredith Shafer
Costumes from the collection of the Appalachian State University
Department of Theater and Dance
Performed by Audrey Black, Malia Easler, Sarahann McIntyre, Kylie Venticinque

"Echoing Rhythms"
Choreography by Regina Gulick
Lighting Design by Wil Martin
Costume Design by Sue Williams
Performed by Bailey Anne Brodd, Kobi Davis, Ainsley Dawe, Olivia Jones, Aubrey Kirk, Taylor Pitts, Ariana Robbins, Sarah Skergan.
This work represents an imagined passage of time in daily rituals of native women playing significant roles as mothers, craftswomen, farmers, builders, and warriors.
"Full Moon Meditation"
Choreography by Marianne Adams, in collaboration with the dancers
Costume Design by Sue Williams with Katherine Counter
Lighting Design by Mike Helms
Performed by Morgan Brisendine, Sophia Cornaire, Galen Galeotos, Lydia Jacobson, Sarahann McIntyre, Gigi Perazolo, Shannon Retzloff, Rachel Walker, Kylie Venticinque, with Dance Studies alumna, Annie Young, Class of '21

"Tending to Synchrony"
Choreography by Lyndsay Snider
Lighting Design by Joe Cockrell
Costumes from the collection of the Appalachian State University
Department of Theater and Dance
Performed by Chloe Barnes, Mack Marrow, Taylor Norman, Katherine Rudolph, Hannah Runkle, Avery Smith

"Moriibayassa: The positive spirit of a community, with one wish can bring us together."
Choreography by Sherone Price and Tandrea Carter
Musical Director Khalid Saleem
Lighting Design by Ahmed Al-Khadi
Costume Design by Sue Williams
Performed by Christian Canastuj, Skylar Chappell, Isabella Dobbs, Adelaide Farmer, Alex Fotopoulos, Imajin Graham, Grace Hill, Logan Jones, Ashley Magnani, Kayla Miller, David Rolland, Ashlynn Swanson, Rachel Walker
Musicians: Khalid Saleem, Jeff Dickens, Tandrea Carter, Delta McCalister, Sherone Price
Rhythms performed are Sorsonet, Forokoroba and Soboninkun
###

About the Department of Theatre and Dance
The Department of Theatre and Dance is one of seven departments housed in Appalachian's College of Fine and Applied Arts. Its mission is to facilitate transformative experiences for students and the public, which cultivate compassionate, creative and collaborative communities through theatre and dance. The department also offers coursework for integrated learning through the arts to the general university student population. Its dynamic co-curricular production program provides exemplary theatre and dance experiences to departmental students, the university community and the region.
About Appalachian State University
Appalachian State University, in North Carolina's Blue Ridge Mountains, prepares students to lead purposeful lives as global citizens who understand and engage their responsibilities in creating a sustainable future for all. The transformational Appalachian experience promotes a spirit of inclusion that brings people together in inspiring ways to acquire and create knowledge, to grow holistically, to act with passion and determination, and embrace diversity and difference. As one of 17 campuses in the University of North Carolina system, Appalachian enrolls 20,641 students, has a low student-to- faculty ratio and offers more than 150 undergraduate and graduate majors.