FOR IMMEDIATE RELEASE

BOONE, N.C. -The Smith Gallery at Appalachian State University presents Shut Up and Listen, the first of two Fall 2017 Bachelor of Fine Arts (BFA) senior studio art exhibitions. Shut Up and Listen, includes work by candidates for the BFA degree in studio art and will be on view from Nov 8 through the Nov. 26. A reception will be held for the artists on Thursday, Nov. 16 from 5:00 - 6:30 p.m. at the Smith Gallery. (731 Rivers Street Boone, NC 28608)
The show features works by graduating seniors: Anna Ambrose, Bailey La Stella, Belle Hissam, Dani Iris, Emma Kimbrough, Jordan Evans, Tashonda Wright, Tyreese McDurmont and Shauna Caldwell.
These students will showcase a variety of work from painting, sculpture, photography, ceramics and more on view at the Smith Gallery and surrounding community locations.
The exhibition title and concept came from the artists' discussions about what they had in common. As student Belle Hissam explained, "The one thing we realized that we had in common was that most of our topics were not the usual things to talk about, [our topics were] things that are uncomfortable to acknowledge, or things you do not understand. It's really easy to be dismissive of those topics, so we want people to observe, think, and listen to some of the things that the artists are trying to communicate."
As part of this exhibition, some students will show work at satellite locations. Emma Kimbrough will exhibit at The Looking Glass Gallery from Nov. 13 through Dec. 1, with a reception at the gallery on Nov. 17 from 5:00-6:30 p.m. Shauna Caldwell will exhibit at the Blowing Rock Art and History Museum (BRAHM) from Nov. 7 through Dec. 2. A reception will be held for Caldwell's work on Nov. 30 from 5:00-7:30 p.m. at BRAHM.
About the Department of Art
One of seven departments housed in the College of Fine and Applied Arts, the Department of Art at Appalachian State University prepares students to explore art, identity, expression and creative problem-solving while challenging them to go beyond their previous limits by discovering new connections to culture. The department offers degrees in art and visual culture, art education, graphic design, studio art, commercial photography and graphic arts and imaging technology, with minors in art history, studio art, commercial photography and graphic arts and imaging technology.
About the College of Fine and Applied Arts
Appalachian State University's College of Fine and Applied Arts is a dynamic and innovative group of seven academic departments, bringing together a variety of perspectives, experiences and real-world education to provide unique opportunities for student success. The college has more than 3,000 undergraduate and graduate majors. Its departments are Applied Design, Art, Communication, Military Science and Leadership, Sustainable Development, Sustainable Technology and the Built Environment, and Theatre and Dance.
Contact: Jennie Carlisle, Director
The Smith Gallery at Appalachian State University
828.262.8053 / carlislejk@appstate.edu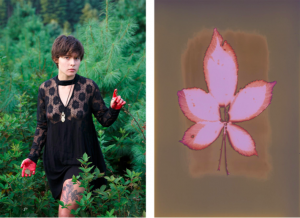 Tags: