The Smith Gallery will present the annual Art and Design Expo, a juried student exhibition, February 2–22. The expo is organized by the Smith Gallery and Appalachian State University's Department of Art and features outstanding student work from across campus.
Appalachian students submitted more than three hundred pieces in various media, including prototypes, digital renderings and examples of fashion, furniture, interior and graphic design, printmaking, painting, performance art, installation, video, photography, sculpture, ceramics, metalwork and fibers. Just under sixty were selected for display by Annah Lee, Artistic Director of Artspace in Raleigh, who juried this year's exhibition.
Students chosen for the expo have a chance to win several awards, including Best in Show, first prize, second prize and third prize. Students also have the opportunity to win a Purchase Award from the Appalachian Permanent Collection at Plemmons Student Union, and a People's Choice Award.
The exhibition features work by Jack Basnight, Raymond Bellamy, Courtney Bruce, Lauren Cates, Peter Clare, Ashley Collins, Eva Conrad, Landon Cornett, Lily Crum, Haleigh Cunningham, Ryan Decker, Lainey Everly, Kelli Free, Ashley Funderud, William Graham, Phoebe Guice, Jacob Hardin, Garrett Hawkins, Aubrey Hollopeter, Noah Howells, Megan Hunter, Rebecca Hurwitz, Jeffrey Little, Morgan Lochbihler, Jordan Moore, Luna Jareo, Bryce Johnson, Paige Jordison, Sope Kahn, Sarah Jayne Kennelly, Liz Lasine, Doe Lee, Walter Mingledorff, India Moffett, Alexandra Page, Cassie Pena, Karli Pendergraft, Tanner Pittmon, Thomas Richmond, Michael Rodriguez, Nathan Sales, Hannah Shipley, Elizabeth Somerville, Jenna Sparacio, Felicia Sutton, Nolan Warner-Sullivan, Tyler Welch, Isaac Wirth, Samantha Young and Pazoo Yang
A public reception and award ceremony will be in held in honor of the student artists on Thursday, Feb. 15 from 5–7:30 p.m. at the Smith Gallery. Award winners will be announced while guests enjoy food, music and honors. The gallery is located in the Schaefer Center for the Performing Arts at 733 Rivers Street. Regular hours are Monday-Friday, 9–5 p.m. Admission is free.
About the Department of Art
One of seven departments housed in the College of Fine and Applied Arts, the Department of Art at Appalachian State University prepares students to explore art, identity, expression and creative problem-solving while challenging them to go beyond their previous limits by discovering new connections to culture. The department offers degrees in art and visual culture, art education, graphic design, studio art, commercial photography and graphic arts and imaging technology, with minors in art history, studio art, commercial photography and graphic arts and imaging technology.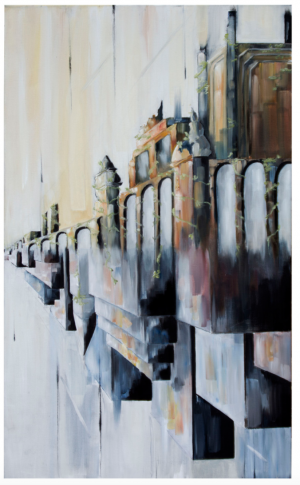 Tags: