Sheryl Oring brings her "I Wish to Say Project" to Appalachian State University on Thursday, Sept. 29 as part of the Smith Gallery's visiting artist series. Oring will perform "I Wish to Say" from noon-2 p.m. in the Plemmons Student Union Solarium and follow up with the lecture "Activating Democracy: The I Wish to Say Project" at 7 p.m. in the Turchin Center for the Visual Arts lecture hall. Both events are free and open to the public and are designed to directly engage the audience through performance, play and participation.
In an era of instant news and smartphones, "I Wish to Say" relies on another era's technology to encourage citizens to express themselves on the U.S. presidential election. Dressed as a 1950s era secretary, Oring uses a vintage manual typewriter to take down letters to the presidential candidates as dictated by passersby. These cards can be mailed during her event to the candidates and excerpts may be shared with the public during readings held throughout the day.
The ongoing project began in 2004 with a commission from The First Amendment Project in Oakland, California. Since that time, Oring has presented "I Wish to Say" in over 60 venues nationwide and mailed more than 2,200 postcards to President Bush, President Obama and the current presidential candidates. Earlier this year, a team of students from the University of North Carolina at Greensboro and PEN writers invited the public to dictate postcards to the Presidential candidates during the PEN World Voices Festival. Messages dictated during the performance were displayed at Smack Mellon in Brooklyn as part of their exhibition "Of the People."
"The human presence has a huge effect on people and has made this project so successful," said Oring. "It has had this impact because of the prevalence of social media. People just aren't talking to each other so much anymore. Ask my students. They'd rather text than talk. So talking and listening become even more powerful."
Sheryl Oring is an Assistant Professor of Art at the University of North Carolina at Greensboro. Her second book, "Activating Democracy: The I Wish to Say Project," will be published in September 2016 by Intellect Books. Other recent projects include "Travel Desk," a public art commission at the San Diego International Airport, and "Maueramt," a performance and exhibition presented in Berlin on the occasion of the 25th anniversary of the fall of the Berlin Wall. Oring divides her time between Greensboro, New York and Berlin. Look for her upcoming performances and exhibitions at Smack Mellon in Brooklyn, New York; Monmouth University in West Long Branch, New Jersey; Weatherspoon Art Museum at UNC Greensboro; Ruffin Gallery at the University of Virginia and the Southeastern Center for Contemporary Art in Winston-Salem, North Carolina.
About the Smith Gallery
Located in the Schaefer Center for the Performing Arts, the Smith Gallery provides opportunities for direct engagement with contemporary works of art and design for students, faculty and community members of Appalachian State University. The Gallery presents original and traveling exhibitions, features works by faculty and students and enriches its programmatic offerings through collaborative projects. The Gallery actively involves students in its exhibitions and programming by serving as a site for honing curatorial, presentation and installation abilities.
###
Media Contact:
Jennie Carlisle, Director
The Smith Gallery at Appalachian State University
828.262.8053
carlislejk@appstate.edu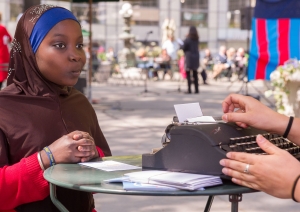 Tags: