The College of Fine and Applied Arts is proud to announce that Jody Servon, associate professor and director of the Smith Gallery at Appalachian State University, has been selected as the Sharpe Chair of Fine and Applied Arts.
The Sharpe Chair, an appointment lasting a total of seven semesters, is made possible through an endowment established by R.Y. and Eileen Lackey Sharpe to honor a member of the arts faculty and to insure the development of an arts program of quality at the Hiddenite Center. In addition to a teaching load, the Sharpe Chair will be responsible for arts programming at the Hiddenite Center.
"I am very interested in continuing to explore how art and culture infuses our everyday lives," Servon says about the appointment, "As the Sharpe Chair, I hope to serve as a bridge between the university and Hiddenite by working with community members, colleagues and the next generation of artists, educators, musicians, designers, historians, writers and more to develop and produce culturally enriching programs."
Servon received a MFA in New Genre from the University of Arizona and a BFA in Visual Art from Rutgers University in New Jersey. She currently serves on the advisory board for the Turchin Center for the Visual Arts and was a cabinet member for Elsewhere Museum and the Center for Craft, Creativity and Design.
Servon's art projects include installations, drawings, photographs, sculptures, video and social experiments. Her work has appeared in exhibitions, screenings and as public projects in the US, Canada, and China. Servon participated in residencies at Vermont Studio Center, Atlantic Center for the Arts, the Contemporary Artists Center, Super G Experiential Residency and was a conceptual artist in residence for the Town of Clayton in North Carolina in 2012. She has received multiple awards including two fellowships from the North Carolina Arts Council. Articles and reviews have appeared in: The New York Times, Sun Sentinel, The Palm Beach Post, The Miami Herald, Arizona Daily Star and The Winston Salem Journal. Servon's work was featured in New American Paintings Issue 70, Artful Dodge Issue 50/51, and selections from Saved appeared in Issue 74 of AGNI Magazine and in the Winter/Spring 2014 edition of Lunch Ticket.
Servon also curates exhibitions focused on contemporary art and was a curator at the Palm Beach Institute of Contemporary Art in Florida. Projects include: Filling Up/Spilling Out, Excess, blip…blah…blog, Collected, and International Ink. She has organized solo exhibitions and projects of work by Frau Fiber, Elana Herzog, Arnold Mesches, Leo Villareal, Taj Forer, David Newton, Althea Murphy-Price, Scott Peterman, Jeff Whetstone, and the E-Team. Exhibition reviews have appeared in Artnews, South Florida Times, Palm Beach Daily News, The Miami Herald, Neural Online, and El Pais.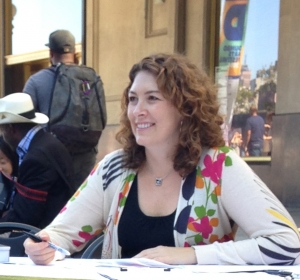 Tags: