By Amanda Brasier
When things are challenging, Appalachian State University senior Rebecca Brown said she sometimes thinks back to her favorite moments on the farm, including her time watching the pigs.
Brown, a member of the Honor's College who is graduating with her B.S. in Sustainable Development with a concentration in Agroecology, plans to continue watching and studying swine as she pursues her master's degree in the fall at The Ohio State University. She was selected as the undergraduate spring 2021 commencement speaker for the College of Fine and Applied Arts.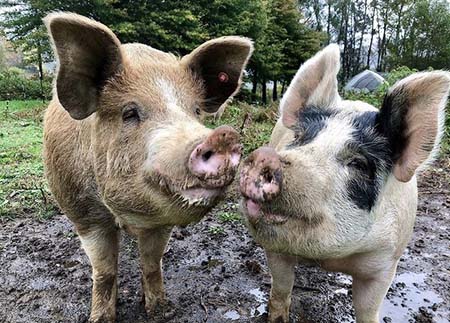 "I remember when we got to the farm, all the pigs came running up to us with curiosity, wanting to see who we are," Brown said. "It made me so happy to see their curiosity toward us, and how they were interested in us and unafraid. Personally I want to be more curious and unafraid of new and unknown opportunities. Easy or challenging—I want to make the best of it. This semester has been like that—I was able to take what I love to do, and enjoy it by embracing it."
In addition to her studies and work at the Goodnight Brothers Sustainable Development Farm in Fleetwood, Brown also volunteered at F.A.R.M. Café, and interned with the Blue Ridge Women in Agriculture and the Watauga County Extension Office.

"My favorite part of working out at the farm was learning the animals' behaviors," she said. "The cows are quiet and you have to not make a lot of noise around them, and the pigs are really smart and social and they can outsmart you. During my time at Appalachian, I also learned about being a good steward of the land, taking care of the animals and plants, so you can keep things alive for future generations."

Brown plans to specialize in swine nutrition or the different foods that farmers should feed their pigs in her master's studies. "For a farmer, the feed is their biggest cost but what and how the animal eats affects the quality of their meat. I want to work with farmers and help them improve the nutrition for their pigs."