The "The Schaefer Center Presents…" performance series, a program of Appalachian State University's Office of Arts and Cultural Programs, continues its 2017–18 season with a collaborative production of the Tony Award-winning best musical "Sweeney Todd: The Demon Barber of Fleet Street" at 7 p.m. on April 13 and 14, and at 2 p.m. on April 15 at the Schaefer Center for the Performing Arts. Tickets are $20 for adults, $15 for Appalachian faculty/staff and retired faculty/staff, and $10 for students.
For just the third time in more than two decades, the Department of Theatre and Dance at Appalachian State University will join forces with the Hayes School of Music for a production that showcases their combined talents. The piece by Stephen Sondheim and Hugh Wheeler has simultaneously shocked, awed and delighted audiences across the world. The show's Broadway premiere received eight Tony Awards, including Best Musical.
James Douthit, dean of Appalachian's Hayes School of Music, is pleased to see the the students and faculty working jointly to make the production a reality.
"This collaboration with the Department of Theatre and Dance offers our students the opportunity to participate in the production of a musical with their colleagues who are pursuing their interests and passions in those arts," he remarked. "The infusion of Hayes School of Music into this project allows students in theatre and dance the opportunity to work with student and faculty musicians. The combined efforts yield a production not to be missed."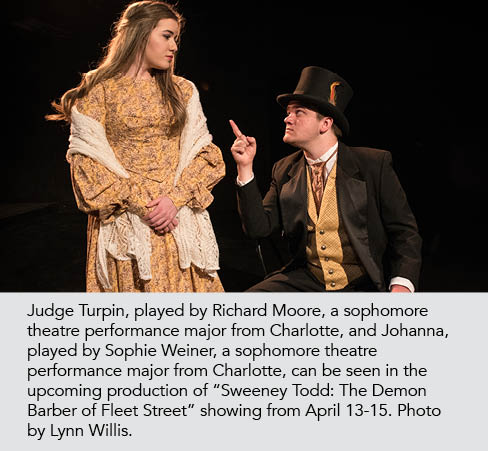 In this infamous tale set in the mid-nineteenth century, Sweeney Todd returns to London seeking vengeance against the lecherous judge who framed him and ravaged his young wife. The road to revenge leads Todd to Mrs. Lovett, a resourceful proprietress of a failing pie shop, above which he opens a new barber practice. Mrs. Lovett's luck sharply shifts when Todd's thirst for blood inspires the integration of an ingredient into her meat pies that has the people of London lining up... yet the carnage has only just begun.
Keith Martin, the John M. Blackburn Distinguished Professor of Theatre, is stage director for the production, which involves 105 Appalachian students onstage, in the pit or behind the scenes, including 45 on the production crew, 31 in the orchestra and 29 cast members. The show is even larger than the last collaborative effort four years ago, "Kiss Me, Kate!"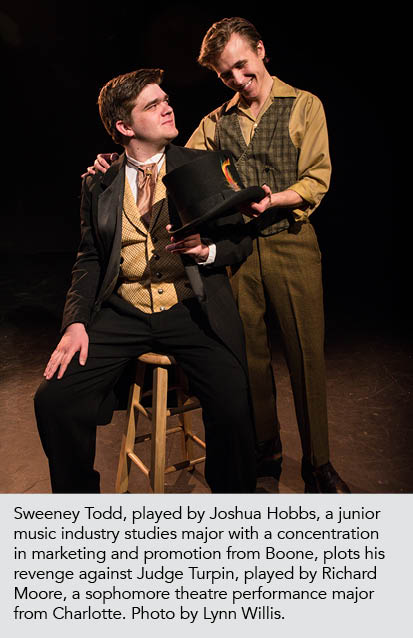 "This musical was first proposed for production by our students, and it is always a pleasure to work with them on a show they really want to do," said Martin, while noting that final approval of the selection was made jointly by the Department of Theatre and Dance and the Hayes School of Music.
Dr. Mélisse Brunet, assistant professor and director of orchestral activities, is the music director and conductor, Assistant Professor of Voice and Opera Dr. Gennard Lombardozzi serves as vocal coach and Dance Studies Professor Dr. Ray Miller is the choreographer. Theatre faculty members Mike Helms, John Marty and Sue Williams are designing the sets, lights and costumes, respectively, Matt Tyson is the technical director and Jennifer Ackland is the costume shop supervisor.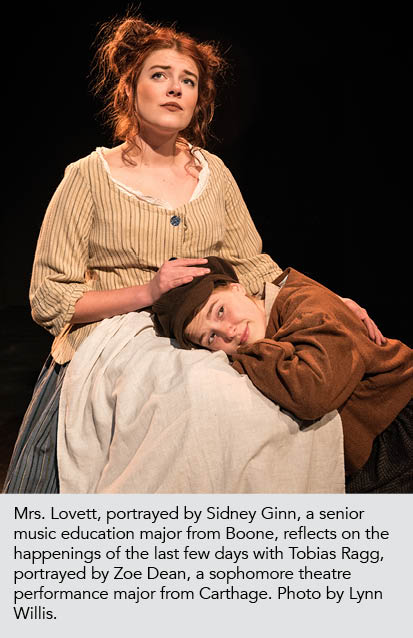 Appalachian theatre design/technology majors holding prominent production responsibilities are stage manager Christina Donovan, a senior from Cary; sound designer Rachel Scherer, a senior from Athens, Ohio; properties designers Morgan Patterson, a senior from Mooresville and Roxanne Waddell, a junior from Winston Salem; make up designer and assistant costume designer Newman Jones, a senior from Rocky Mount; assistant lighting designer Tim Travis, a senior from Durham; assistant technical director John Bell, a junior from Fuquay-Varina; and master electrician Lizzy Vazquez, a senior from Creedmoor. Holli Benfield, a junior general theatre major from Greensboro, is assistant stage director and junior dance major Sabrina Furchess from Lexington is serving as assistant choreographer and dance captain.
The title role of Sweeney Todd is being played by Joshua Hobbs, a junior music industry studies major from Boone with senior music education major Sidney Ginn, also from Boone, as his leading lady, Mrs. Lovett. Sophomore theatre performance majors Sophie Weiner and Devon Bucey, both from Charlotte, portray the ill-fated lovers Johanna and Anthony. The role of the villainous Judge Turpin and his trusted Beadle are played by sophomores Richard Moore, a theatre performance major from Charlotte, and Trevor Neal, a music performance major from Greensboro. Junior Roy Dale Cox, a political science and theatre performance double major from Birmingham, Alabama plays the role of Adolfo Pirelli, while sophomore Zoe Dean, a theatre performance major from Carthage, plays Pirelli's able assistant, Tobias. Senior theatre performance major Mackenzie Smith from Concord, portrays the pivotal role of the Beggar Woman.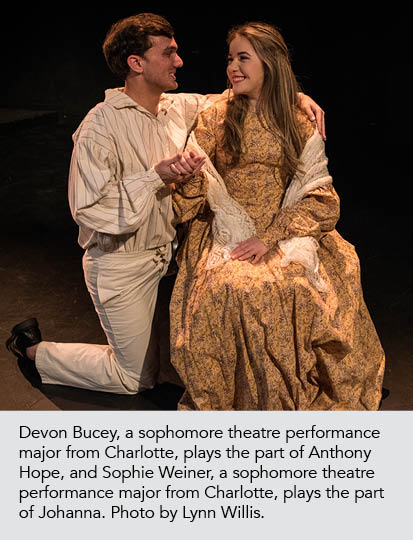 Pre-show lectures are offered free of charge prior to each performance. Coordinated by Assistant Professor of Theatre Arts Dr. Derek Davidson and his team of student dramaturgs, these conversations will provide audience members with background information about the production and its creators, a historical context of 19th century London, overview of the numerous themes and answers to the all-important question, "Why this play now?" The lectures begin 60 minutes prior to curtain and take place in The Hayes School of Music.
"Sweeney Todd: The Demon Barber of Fleet Street" is presented through special arrangement with Music Theatre International (MTI). Please note that this production is rated PG-13 due to mature content, which includes scenes of physical and sexual violence, along with theatrical fog and a gunshot effect.
The Schaefer Center for the Performing Arts is located at 733 Rivers Street on the campus of Appalachian State University in Boone, NC. Parking for most Schaefer Center events is plentiful. After 5:00 p.m. on weekdays, and at all times on weekends, Schaefer Center patrons may use any available parking lot on campus. The Raley and Edwin Duncan parking lots are right across Rivers Street—access them at the traffic light directly in front of the Center. The Stadium Parking Lot is behind the Center—access from Stadium Drive. Covered parking is available at both the Rivers Street Parking Deck and the College Street Parking Deck. Contact the Parking Office at (828) 262-2878 or visit http://parking.appstate.edu for more information.
About "The Schaefer Center Presents"
"The Schaefer Center Presents" is a series offering campus and community audiences a diverse array of music, dance and theatre programming designed to enrich the cultural landscape of the Appalachian State University campus and surrounding area. By creating memorable performance experiences and related educational and outreach activities, the series promotes the power and excitement of the live performance experience; provides a "window on the world" through the artistry of nationally and internationally renowned artists; and showcases some of the finest artists of our nation and our region. Musical events range from symphony orchestra and chamber music performances to jazz, folk, traditional, international, and popular artists. Theatre productions run the gamut from serious drama to musical comedy. Dance performances offer an equally wide array of styles, from ballet to modern dance to international companies representing cultural traditions from around the world. For more information, visit http://theschaefercenter.org.
About the Department of Theatre and Dance
The Department of Theatre and Dance is one of seven departments housed in Appalachian's College of Fine and Applied Arts. Its mission is to facilitate transformative experiences for students and the public, which cultivate compassionate, creative and collaborative communities through theatre and dance. The department also offers coursework for integrated learning through the arts to the general university student population. Its dynamic co-curricular production program provides exemplary theatre and dance experiences to departmental students, the university community and the region.
About the Hayes School of Music
The Hayes School of Music prepares young musicians for professional lives as performers, composers, music educators, music therapists, conductors, and music industry professionals, ensuring the next generation of musical leadership for the state, region, and nation. Noted for quality instruction by national and internationally recognized faculty musicians, the school offers four undergraduate degree programs and three graduate level programs. The school also engages the local and regional community with more than 190 concerts each year, giving students valuable performance experience.
About Appalachian State University
Appalachian State University, in North Carolina's Blue Ridge Mountains, prepares students to lead purposeful lives as global citizens who understand and engage their responsibilities in creating a sustainable future for all. The transformational Appalachian experience promotes a spirit of inclusion that brings people together in inspiring ways to acquire and create knowledge, to grow holistically, to act with passion and determination, and embrace diversity and difference. As one of 17 campuses in the University of North Carolina system, Appalachian enrolls about 19,000 students, has a low student-to-faculty ratio and offers more than 150 undergraduate and graduate majors.
###
Media Contact
Anna Gaugert
gaugertah@appstate.edu
Tags: