Can You Follow the Rules?

BOONE, NC – The Department of Theatre and Dance at Appalachian State University is bringing the modern comedy "Rules for Living" by Sam Holcroft to the stage of the Valborg Theatre on the Appalachian campus.

Performances are at 7 p.m. from Wednesday October 4 through Saturday, October 7 with a 2 p.m. matinee on Sunday October 8. Tickets are $17 for adults, $15 for faculty and staff, and $10 for students. For more information call the Schaffer Center box office at 800-841- ARTS or visit the website https://theschaefercenter.org/tickets/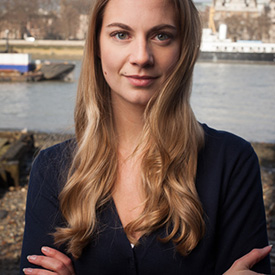 "Rules for Living" is a dark comedy about family dysfunction and societal norms. Playwright Sam Holcroft explores coping with family dynamics and social constructs that limit behaviors through cognitive therapy. The play follows a family preparing for Christmas lunch during which tensions begin to rise as they deal with familial issues. Each movement, gesture, or voice is dictated over by the author's set of "rules" which the actors must follow to function correctly in Holcroft's world.
Please note that this production carries a content advisory due to profane language, stage violence, and scenes of intimacy; the show is recommended for persons 16 years of age and older. "Rules for Living" is an amateur production of the Department of Theatre and Dance and presented by arrangement with Casarotto Ramsay & Associates, London.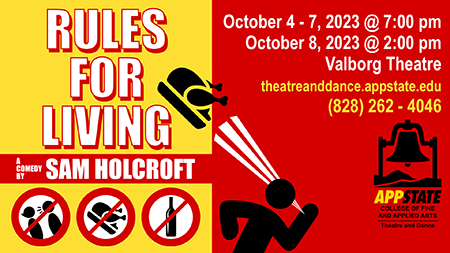 The production is under the direction of Associate Professor Derek Gagnier, a theatre faculty member and head of the department's BA Performance Concentration Now in his 23rd year at Appalachian, Gagnier is an acting, voice, and dialects teacher with interests in both classical and modern works.
In his director's notes for the production's playbill, Gagnier said, "Sam Holcroft's plays, to quote The Guardian, contain 'a double sense of reality and a growing unease.' Rules for Living explores the unspoken rules by which we all live. On one level, the play depicts a fairly standard family gathering; but the play is laid out like a board game and rigged with forfeits, highlighting the secret behaviors that make the family tick, and risk tearing them apart. A further layer is added when the book 'Overcoming Low Self Esteem' in quoted in the play. The exercises (or rules) for coping with low self-esteem are patterns for the rules we see in this play. In fact, a character mentions, 'sometimes the rules aren't helpful, but hurtful.'
"In researching Ms. Holcroft and her work," said Gagnier, "I stumbled upon the fact that she has recently been diagnosed with Autism. Holcroft says 'I have observed human behavior as a science, and I have wanted to find a way to express my confusion. It's almost like looking through a window at the rest of the world and I'm on the outside.' Rules for Living allows us in some ways to see human relationships through a neurodivergent lens and brings fresh light on how people interact and ultimately separate while observing strict social norms."
Gagnier invites audience members to, "Please laugh with us and consider how we are all in the same boats when it comes to dealing with ones we love."
The seven-member cast of "Rules for Living" includes, in alphabetical order, Mac Boone, Mack DeBernardo, Josh Hurd, M. J. Livesay, Spencer Moore, Sophie Tucker, and Destiney Wolfe. Student designers and production staff include stage manager Alexa Trotter, lighting designer Wil Martin, costume designer Sara Wheeler, hair and make-up is by Jess Fields, Raquel Christiansen is properties master, with Ebie Britt serving as assistant prop designer and props artisan.
For directions to the Valborg Theatre and campus parking info, see Visitor Parking.
Authored by THR 3445 class members Mollie Brantley, Kiersten Caliguire, and Kayla Miller.
###

About the Department of Theatre and Dance
One of seven departments housed in the College of Fine and Applied Arts, the Department of Theatre and Dance's mission is to facilitate transformative experiences for students and the public, which cultivate compassionate, creative, and collaborative communities through theatre and dance. The department also offers coursework for integrated learning through the arts to the general university student population. Its dynamic co-curricular production program provides exemplary theatre and dance experiences to departmental students, the university community, and the region. www.theatreanddance.appstate.edu
About the College of Fine and Applied Arts
Appalachian State University's College of Fine and Applied Arts is a dynamic and innovative group of seven academic departments, bringing together a variety of perspectives, experiences, and real-world education to provide unique opportunities for student success. The college has more than 3,500 undergraduate and graduate majors. Its departments are Applied Design, Art, Communication, Military Science and Leadership, Sustainable Development, Sustainable Technology and the Built Environment, and Theatre and Dance. Learn more at https://cfaa.appstate.edu
About Appalachian State University
As the premier public undergraduate institution in the Southeast, Appalachian State University prepares students to lead purposeful lives as global citizens who understand and engage their responsibilities in creating a sustainable future for all. The Appalachian Experience promotes a spirit of inclusion that brings people together in inspiring ways to acquire and create knowledge, to grow holistically, to act with passion and determination, and to embrace diversity and difference. Located in the Blue Ridge Mountains, Appalachian is one of 17 campuses in the University of North Carolina System. Appalachian enrolls nearly 21,000 students, has a low student-to-faculty ratio, and offers more than 150 undergraduate and graduate majors.
Tags: