During a visit to Appalachian State University on Oct. 18, Rev. Jesse Jackson, Sr. sat down for an interview with Dr. Ozzie Ostwalt, host of AppTV's "Religion in Life." Their conversation covered the role of religion and morality in the fight for civil rights, and Jackson shared insights gained from a lifetime focused on advancing equality and justice in America.
"It's not often one has the opportunity to sit down with someone who has changed the trajectory of human history," said Ostwalt, a professor in Appalachian's Department of Philosophy and Religion. "Rev. Jesse Jackson is one such person — for him to give his time to our university and our students is remarkable. He was gracious, insightful, and, as always, inspirational."
Jackson, the founder and president of the Rainbow PUSH Coalition, is one of America's foremost civil rights, religious and political figures. Over the past forty years, he has played a pivotal role in virtually every movement for empowerment, peace, civil rights, gender equality, and economic and social justice. He was in Boone as the featured speaker for Appalachian's University Forum Lecture series.
As a guest on "Religion in Life," Jackson expressed concerns about the growth of poverty and racial polarization in recent years. He also emphasized the need to "learn to live together" and to "love one another."
"Religion in Life" is a weekly AppTV program that explores the integral role that faith and spirituality play in the world today. Show producer Kelly Hunter, a senior in the Department of Communication's electronic media/broadcasting program, was initially nervous to produce a show with such a famous guest.
"Being able to have Rev. Jesse Jackson on AppTV was a huge honor and a great experience," said Hunter. "While it was a little nerve-wracking at first because I did not want to make a mistake in front of someone so well known, I am blessed to have had the opportunity to meet and work with someone who has helped to change the future of our country through equality and love. The world could use more people who are as dedicated and involved in societal issues as Rev. Jesse Jackson."
Launched in 2015, AppTV is housed in the Department of Communication and is Appalachian's student-staffed television channel. It is available on Skybest Channel 20 or 1020, Spectrum channel 198 and on campus channel 23-3. "Religion in Life" is one of the longest-running programs on the channel.
About the Department of Communication
One of seven departments housed in the College of Fine and Applied Arts, the Department of Communication at Appalachian State University focuses on preparing students to succeed in the varied fields within the communication industry. The department offers five majors – advertising, communication studies, electronic media/broadcasting, journalism and public relations – and a minor in communication studies. Graduates work in a wide range of positions in media, corporate, agency, government and nonprofit organizations.
About Appalachian State University
Appalachian State University, in North Carolina's Blue Ridge Mountains, prepares students to lead purposeful lives as global citizens who understand and engage their responsibilities in creating a sustainable future for all. The transformational Appalachian experience promotes a spirit of inclusion that brings people together in inspiring ways to acquire and create knowledge, to grow holistically, to act with passion and determination, and embrace diversity and difference. As one of 17 campuses in the University of North Carolina system, Appalachian enrolls about 19,000 students, has a low student-to-faculty ratio and offers more than 150 undergraduate and graduate majors.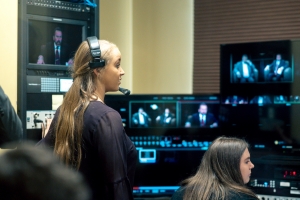 Tags: