By Nancye Edwards
The writer visits the High Country to participate in the world premiere of her work, "Flight from the Mahabharath," at Appalachian State University in Boone.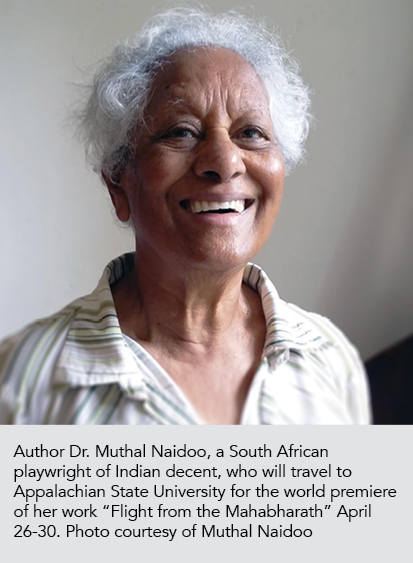 This month, the Department of Theatre and Dance at Appalachian State University will present the world premiere of "Flight from the Mahabharath." It examines the "Mahābhārata," one of the two major Sanskrit epics of ancient India, from the perspective of the female characters. The "Mahābhārata," often referred to as "the Epic," serves as a metaphor for a patriarchal society where women function mainly as adjuncts. In the play, the women escape the Epic into a different genre, Drama. Joined by two men, the play creates a new reality where the characters are free to explore their identities. The stage provides a home for action where the characters redefine themselves.
Author Dr. Muthal Naidoo, a South African playwright of Indian descent, often focuses her work on power dynamics in racially divided societies. She wrote "Flight from the Mahabharath" in 1992 after she was inspired by B.R. Chopra's "Mahabharat" television series in the early 1990s.
Having last visited the United States in 2003, Naidoo will travel to North Carolina for the first time as she joins the faculty, staff and students at Appalachian State University for a five-day residency. While on campus, Naidoo will teach classes, meet with the cast and creative team and participate in a talkback session after the opening night performance.
What inspired you to become a writer?
Naidoo: I have no idea what inspired me to be a writer. When I was about thirteen, I wrote my first little play about a nurse. I loved to write but never thought of myself as a writer until after I retired.
How have you used theatre as a method for stimulating change?
Naidoo: In the late 1970's and early 1980's, I wrote revues that poked fun at apartheid; one of my revues, "The Masterplan," was banned. It lampooned the government's homeland system. In addition, I wrote one-act comedies. My first full-length play, "Masks," was performed by the University of Durban-Westville's Speech and Drama Department in 1983. In 1992, I wrote "Flight from the Mahabharath" after watching the Indian TV series "Mahabharath" (sic).
Did you ever struggle with finding the confidence to publish your work?
Naidoo: In 2000, when I retired from teaching, I began to write biographies and short stories. I did not have the patience to wait for some publisher to recognize my work. I did at first submit work to publishers, but I could not wait for them to decide that I was worth publishing. I do not write popular stuff so there is no money to be made from what I write, so I self-publish. I print a very limited number of copies of my books, but I have a website [muthalnaidoo.co.za] and that is where all my work is to be found. In fact, that is where the Department of Theatre and Dance found "Flight from the Mahabharath."
In "Flight from the Mahabharath," the stage is outlined as a place where women can remain true to themselves by providing more autonomy for the characters than in "the Epic." Does this reflect your view of live theatre?
Naidoo: Theatre, and now film and video, reach more people because they are social forms of entertainment and because they do not require literacy. Performance arts are more readily accessible, and that is what possibly makes their impact stronger than other forms of literature. Videos of Jane Austen's novels have reached more people than her books.
In your opinion, how does language play a role in power dynamics?
Naidoo: In the play, the characters tell their stories in order to examine them and discover how false their existences have been, as they have had little opportunity to create their own. Language, like everything human, is both negative and positive. Language can imprison as well as liberate. It imprisons when it is bound to traditions and conventions that severely limit freedom; but it is also the tool that enables one to understand, and understanding is what liberates. In the epic, roles were defined for the women. In the play, they are on stage and the stage is a place for action. They have the freedom to express themselves, to act and redefine themselves.
Once I discovered Brecht and Epic theatre, it became the form that I adopted; I loved the idea that the audience was not simply a passive entity, but they are individuals alive and evaluating everything being presented to them.
How do you define feminism?
Naidoo: I do believe that I am a feminist in that I advocate freedom of choice for women. A woman should understand that traditional roles are options, and she is not obliged to choose them. Feminism for me is simply women making real choices for themselves. That is probably idealistic as we are conditioned by the societies in which we live, and unless we are aware of how we have been programmed, our choices are not free. And even when we become aware, our choices are still not totally free because the obligation to preserve our societies underlies everything we do.
How do you believe a live performance of your work will impact audiences?
Naidoo: Theatre, like all art, presents the artist's understanding of existence. If the author's view is understood, it may change a spectator's understanding of reality. But I think artists simply offer other perspectives, which they share with audiences. They simply make spectators aware that they have choices.
"Flight from the Mahabharath" challenges the various categories and stereotypes that structure many of the world's societies. Do you believe it is possible to truly break free from stereotypes?
Naidoo: For me, there is only one way to free oneself of one's conditioning and that is to become aware of it and understand the reasons for its existence. I do not believe we can be entirely free of categorization because we live in society and we make meaning through the structures and forms that we create. Total freedom is an illusion.
How do you feel the story of "Flight from the Mahabharath" is relevant to students today?
Naidoo: It is a story mainly about women asserting their independence. They are examining the social conditioning that has kept them imprisoned in subservient roles and they arrive at understandings that give them the freedom to discover and create their own destinies. I believe that understanding the extent to which one is conditioned by one's circumstances allows one a certain degree of freedom of choice. I do not believe there is such a thing as total freedom. We live in communities and we owe our allegiance to community because it gives us the space to explore at the same time as it provides us with security. And the need for security places obligations on all of us.
When did you last visit the United States?
Naidoo: My last visit to the U.S. was in 2003. It was a short visit to attend the wedding of my niece, Ragini Saloman (née Ray.)
How have you enjoyed working with our faculty and production team from a distance?
Naidoo: I have enjoyed chatting with Dr. Miller and I look forward to seeing what he and his team make of the play. As far as I am concerned, the play belongs to them now and not to me.
What are you most looking forward to during your visit to Appalachian State University?
Naidoo: I am looking forward to meeting all the people in the Department of Theatre and Dance – I admire their spirit of adventure. They do not simply rely on well-known playwrights and established works; they search for and find works that will allow them to express their talents and creativity.
###
Media Contact
Keith Martin
Martinkt1@appstate.edu
About the Production
Performances of "Flight from the Mahabharath," are scheduled for 7 p.m. Wednesday, April 26 through Saturday, April 29, with a 2 p.m. matinee on Sunday, April 30 in the Valborg Theater on the university's campus. Tickets are $10 for students and $17 for adults. The theatre is located on campus at the north side of Chapell Wilson Hall on Howard Street in Boone. The entrance faces the back of the Turchin Center for the Visual Arts on King Street. Parking is available after 5 p.m. on campus in faculty/staff lots and after 5:30 p.m. in the College Street parking deck near Belk Library and Information Commons. For more information, call the Schaefer Center box office toll-free at 800-841-ARTS (2787), contact the Valborg Theater box office at 828-262-3063 or visit www.theatreanddance.appstate.edu.
About the Department of Theatre and Dance
The Department of Theatre and Dance is one of seven departments housed in Appalachian's College of Fine and Applied Arts. Its mission is to facilitate transformative experiences for students and the public, which cultivate compassionate, creative and collaborative communities through theatre and dance. The department also offers coursework for integrated learning through the arts to the general university student population. Its dynamic co-curricular production program provides exemplary theatre and dance experiences to departmental students, the university community and the region.
About Appalachian State University
Appalachian State University, in North Carolina's Blue Ridge Mountains, prepares students to lead purposeful lives as global citizens who understand and engage their responsibilities in creating a sustainable future for all. The transformational Appalachian experience promotes a spirit of inclusion that brings people together in inspiring ways to acquire and create knowledge, to grow holistically, to act with passion and determination, and embrace diversity and difference. As one of 17 campuses in the University of North Carolina system, Appalachian enrolls about 18,000 students, has a low student-to-faculty ratio and offers more than 150 undergraduate and graduate majors.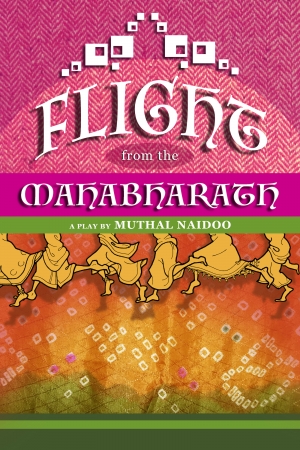 Tags: