A collaborative public art project between Appalachian State University art students and local business Appalachian Mountain Brewery (AMB) exemplifies the importance of connecting the university and community by giving students a unique educational experience and offering a local business a one-of-a-kind art installation.
The project is part of Associate Professor of Art's Scott Ludiwg's course, Contemporary Issues in Advanced Drawing. "Public art, especially that which involves collaboration, is of interest to me," explains Ludwig. "It also happens to be a topic that currently generates a lot of buzz in the contemporary art scene. I wanted this course to provide a practical, 'real-world' experience for these students, where they could truly collaborate, gain experience working with diverse clientele and make work that would be seen by a wider audience, set within a community-oriented, public space."
When conducting preliminary research in Richmond, VA, Ludwig saw firsthand how local artists, making public works, played a key role in rebranding the city. That research inspired him to adapt the idea for his course.
As Ludwig began investigating community partners for the project, Appalachian Mountain Brewery became the top choice, due to their overarching mission statement that embraces community, sustainability, and philanthropy.
Having worked with AMB's Creative Director, Tommy Lee, in the past, Ludwig presented the idea first to Lee who then pitched it to the management of AMB.
"When the project was first presented to me, I wasn't really sure how this would all come together," explains Danny Wilcox, Director of Retail Operations at AMB. "Working with many different artists at one time, that all have different styles they work with, could prove to be difficult to accomplish such a large scale project. This did not scare away any of the students. Instead, they came at the project full-force and presented ideas on how to transform the entire outside patio at AMB."
The project is multi-faceted and involves a large-scale, wrap-around wall mural, a series of linoleum block prints on birch panels, custom built tables and barrel tops fabricated with circular shadowbox frames for artwork display.
As the students developed ideas for these various components, they were required to conduct numerous presentations to their clients. These were visual presentations that included conceptual and finished studies of both individual and collaborative designs, based on the needs of the clients. Various proposals were enthusiastically accepted and teams were formed to execute the various components of the project.
The result is truly an all-inclusive collaboration between students, AMB and Appalachian State University. The completed project will be "unveiled" to the public on May 1st at 5 pm, to coincide with the First Friday Art Crawl and an ASU alumni event.
"It has been great seeing everyone work together to accomplish this project," says Wilcox. "I believe it has also given the students a great real world experience by being able to work first-hand with a local business in town. Cheers to Appalachian State University for continuing to find more ways to work with our Boone Community."
The students participating in Ludwig's 2015 Contemporary Issues in Advanced Drawing: Art in the Public Domain course and AMB collaborative project include Patrick Bidwell, Hunter Hill, Jesse Lee, Gabriellia Lorezo, Benjamin Osborne, Nick Osetek, Rebecca Pitocco, Elizabeth Shanahan, Halley Sherrill, Christin Surber, Rachel VanHoy, and Spenser Williams
Ludwig expresses appreciation for the many people in the community who helped make the project possible, including Cheap Joe's Art Stuff, the staff at AMB, and the Appalachian State University Department of Art.
Ludwig, his students, and AMB welcome everyone to come by and check out the project on the brewery's patio.
To see images of the project visit http://asuadvanceddrawing.weebly.com
To learn more about the Department of Art, visit www.art.appstate.edu
To learn more about Appalachian Mountain Brewery, visit www.appalachianmountainbrewery.com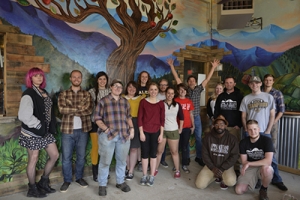 Tags: