During all the excitement of College Gameday visiting App State on Sept. 17 and a last-second win vs. Troy, we missed a few things. One of the things that flew under the radar is how celebrity Pat Mcafee signed the ROSE solar vehicle during ESPN's College Gameday.
Kyla Willoughby is the Media Lead for Team Sunergy (App State's solar vehicle team) and was thrilled to see the ROSE solar car get the attention it deserves.
"Having ROSE featured on Gameday feels like a dream," Willoughby said. "I am so proud of Team Sunergy and all of the hard work that had been put into that car."
Team Sunergy is a race team comprised of students, faculty, and staff from various campus units, spread across Appalachian State University. Their goal is to research and develop solar-powered race cars. Their latest solar car is called ROSE, which stands for "Racing On Solar Energy." Team Sunergy has seen continued growth and success since they first drove their solar car in the 2016 American Solar Challenge.
Willoughby is a senior majoring in Commercial Photography and minoring in General Business and Graphic Arts and Imaging Technology. As Media Lead for Team Sunergy, Willoughby was in attendance at College Gameday, along with student Patrick Laney, one of the Mechanical Leads on Team Sunergy.
"None of us knew that Pat McAfee would talk about ROSE, let alone sit in the car," Willoughby said. "Patrick Laney was able to catch Pat at the right time to talk with him before his talk show. We were so happy to hear him talk about ROSE on the show and that he remembered what ROSE stood for."
Who is Pat McAfee?
McAfee is a host on ESPN's College Gameday, but he also hosts his own podcast "The Pat McAfee Show," and is a profession wrestler and professional wrestling color commentator. Being a host on College Gameday, McAfee main responsibility was to hype the upcoming college football games, and offer analysis.
After ESPN's College Gameday was over, Willoughby knew she wanted to have McAfee sit in the car. Laney waited patiently while McAfee finished signing autographs and asked him to if he wanted to see ROSE.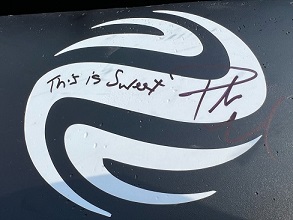 "I was ecstatic when I saw him (Pat McAfee) and Patrick make their way to the car and Pat sit inside," Willoughby said. "I made sure to try and get every shot that I could while this happened."
Then the unthinkable happened. While McAfee was sitting inside the solar car, he signed his name on the dashboard logo, along with the message "this is sweet."
"We did not plan on having Pat sign the car until right before he got out of ROSE," Willoughby said. "We were very lucky to catch him at the right time to talk with him about the team, ROSE, and get him in the car."
Not only was App State's solar car featured on national television in front of 2.2 million viewers, but it also received a celebrity endorsement. It was a good day to be a member of Team Sunergy.