First Years are First Rate at App State!
BOONE, NC – To open each performance season, the Appalachian State University Department of Theatre and Dance provides freshman and transfer students the opportunity to get involved with their own unique event. This fall, "What We Carry: The First Year Showcase" is an inclusive production incorporating 24 students, twelve from theatre and an equal number from dance. The showcase takes place at various outdoor locations around campus beginning at 6 p.m. from September 28 to 30. The show is given in a promenade fashion with audience members meeting outside of Greer Studio Theatre and guided to the different performance locations. Student admission is only $7 and the adult price is $10 with tickets available online through the department website at theatreanddance.appstate.edu as well by phone or in person through the Schaefer Center for the Arts box office.
The event connects first year and transfer students with upper level classmen and faculty/staff in the program. Together, they create and devise a new artistic community, an inclusive production incorporating anyone who wants to be involved. Open to all students who are interested in majoring or minoring in any of the department's six-degree concentrations, this year's theme will gather inspiration from "Suitcases, and all that they evoke!" Appalachian students are responsible for the creation and performance of the show, which this year will utilize outdoor campus spaces to create site specific performance works. Audience members will enjoy guided walks departing from the Greer Studio Theatre to view each of the dances and theatre vignettes in various locations around campus and in Durham Park.
According to co-coordinators Dance Studies Professor Marianne Adams and Assistant Professor of Theatre Dr. Gina L. Grandi, this year's showcase is a collection of devised pieces with students responsible for the creation and performance of original theatre vignettes and choregraphed dance pieces. Adams and Grandi are utilizing the talents of both students and alumni for the production.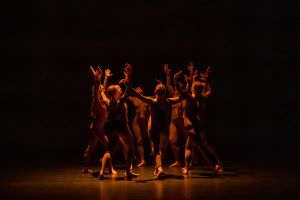 Photo by: Lynn Willis

The two student directors, Mia Buckson and Kiersten Caliguire, are guiding first year students through the devised theatre process. Choreographers Sarah Balkus, Caroline Friend, Logan Jones, and Sarahann McIntyre are working with the dance students involved in the showcase. Ella Drymon is the student costume coordinator with Willow Brookshire serving as the student stage manager.
The theme of the 2023 First Year Showcase is "What We Carry" with students using the visual aid of suitcases, backpacks, and other items to symbolize the metaphorical baggage people carry around with them every day. Throughout the creative process, students have been exploring the theme through movement, devised exercises, and dialogue.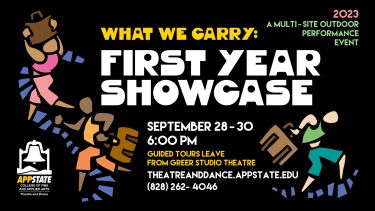 Graphic by Brad Parquette

Site-specific work is a personal passion of Dr. Grandi, and she is excited to work with the actors in exploring how the space is going to be used. She said, "I want audience members to see the range of theatre expression of which our students are capable." During the theatre devising process, student performers are encouraged to play with form and content while exploring the meaning of the showcase theme. After each rehearsal activity, students discuss what resonates with them and then turn those feelings into a piece of theater. "Ultimately, the students get to decide the story they want to tell," said Grandi.
Please note that the showcase begins promptly at 6 p.m. Participants begin their guided walking tour from outside Greer Studio Theater. For directions and parking information, see Visitor Parking.

Authored by THR 3445 class members Hunter Farlow, Ben Perkins, and Molly Wells
###

Theatre photos by Gina Grandi


About the Department of Theatre and Dance
One of seven departments housed in the College of Fine and Applied Arts, the Department of Theatre and Dance's mission is to facilitate transformative experiences for students and the public, which cultivate compassionate, creative, and collaborative communities through theatre and dance. The department also offers coursework for integrated learning through the arts to the general university student population. Its dynamic co-curricular production program provides exemplary theatre and dance experiences to departmental students, the university community, and the region. www.theatreanddance.appstate.edu

About the College of Fine and Applied Arts
Appalachian State University's College of Fine and Applied Arts is a dynamic and innovative group of seven academic departments, bringing together a variety of perspectives, experiences, and real-world education to provide unique opportunities for student success. The college has more than 3,500 undergraduate and graduate majors. Its departments are Applied Design, Art, Communication, Military Science and Leadership, Sustainable Development, Sustainable Technology and the Built Environment, and Theatre and Dance. Learn more at https://cfaa.appstate.edu
About Appalachian State University
As the premier public undergraduate institution in the Southeast, Appalachian State University prepares students to lead purposeful lives as global citizens who understand and engage their responsibilities in creating a sustainable future for all. The Appalachian Experience promotes a spirit of inclusion that brings people together in inspiring ways to acquire and create knowledge, to grow holistically, to act with passion and determination, and to embrace diversity and difference. Located in the Blue Ridge Mountains, Appalachian is one of 17 campuses in the University of North Carolina System. Appalachian enrolls nearly 21,000 students, has a low student-to-faculty ratio, and offers more than 150 undergraduate and graduate majors.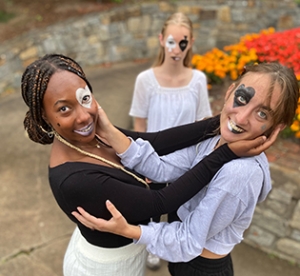 Tags: