As the lights dimmed in the Schaefer Center for the Performing Arts on the evening of Nov. 18, five electronic media and broadcasting (EM/B) students prepared for a new type of experience. The group had the unique opportunity to collaborate with the Hayes School of Music and the Schaefer Center to record a live performance of the Appalachian Symphony Orchestra using the Department of Communication's new portable TV studio, a miniaturized version of the equipment students use regularly in the Beasley Media Complex television studios.
The students were all enrolled in the department's Live Broadcast Production course taught by Rob Gelber, chief engineer and production manager for AppTV, the university's student-run television station. In this course, students learn how to work as a team to produce studio shows for the station and athletics events for ESPN3.
"Having a portable studio enables our department to be more flexible and creative with our broadcast capabilities," said Gelber. "There is no substitute for the experience a student receives while participating in a live broadcast. Our students are learning skills that are highly valued in the industry and we're here to provide an environment that promotes this growth."
Madison Deitz, a sophomore from Hickory, served as technical director for the event. She enjoyed the experience of working with the portable studio, and the thrill of a live show.
"In the studio, you can take out [a mistake] in post-production or reshoot so that it looks good," she mentioned. "If you mess up in a live show then you see it. It can be stressful but is a lot of fun!"
Rebekah Pegram, a junior from Reidsville, also appreciated the experience. As an aspiring news anchor, she didn't have much involvement behind the scenes before taking the Live Broadcast Production course. The night of the concert, she was in charge of the middle camera shot.
"The production side of broadcasting is something I never thought about when picking my major," she said "Thanks to Rob and this course, working behind the scenes has really opened my eyes to how much fun that part of EM/B is."
Gelber was pleased with the recent collaboration and plans to continue producing events at the Schaefer Center.
"Looking forward, we're eager to expand our partnership with other departments on campus," he said. "We're also excited about using streaming services like Facebook Live to reach a larger online audience."
About the Department of Communication
One of seven departments housed in the College of Fine and Applied Arts, the Department of Communication at Appalachian State University focuses on preparing students to succeed in the varied fields within the communication industry. The department offers five majors – advertising, communication studies, electronic media/broadcasting, journalism and public relations – and a minor in communication studies. Graduates work in a wide range of positions in media, corporate, agency, government and nonprofit organizations.
About Appalachian State University
Appalachian State University, in North Carolina's Blue Ridge Mountains, prepares students to lead purposeful lives as global citizens who understand and engage their responsibilities in creating a sustainable future for all. The transformational Appalachian experience promotes a spirit of inclusion that brings people together in inspiring ways to acquire and create knowledge, to grow holistically, to act with passion and determination, and embrace diversity and difference. As one of 17 campuses in the University of North Carolina system, Appalachian enrolls about 18,000 students, has a low student-to-faculty ratio and offers more than 150 undergraduate and graduate majors.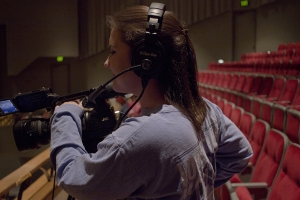 Tags: