In August 2018, Ira David Levy was hired as news adviser for The Appalachian, the university's student-run news organization. During summer 2018, the organization moved under Appalachian State University's Department of Communication from Student Affairs to parallel the other student-run media platforms on campus, WASU-FM and AppTV. In his role as adviser, Levy will mentor and guide the students while developing and implementing a long-term vision for The Appalachian's growth.
Levy is no stranger to working with students – he spent 16 years on faculty at Wright College in Chicago, where he built the journalism and media program and revived the student newspaper. He was given the autonomy to build the newspaper as he chose, so he applied the structure of a professional newsroom, some of which he learned while at CNN, where he spent the first several years of his career as a writer and producer for CNN Headline News.
"I only knew one thing – how to set up the student newspaper as a professional news organization," he shared. "As the adviser, I was able to give students the backing, and the opportunity, to publish freely without pushback from the administration at Wright."
Dr. Janice Pope, chair of the Department of Communication, is pleased that Levy accepted the position at Appalachian.
"A past winner of the College Media Association's Distinguished Newspaper Adviser of the Year, David brings a wealth of experience to his new role at The Appalachian," she said. "The student newspaper staff is invigorated by his enthusiasm and new ideas for their continued growth and contributions to the campus community."
Levy's first order of business at Appalachian is to get the students to focus on the organization's identity.
"I asked the students to think about what they want for the paper. Will it be primarily feature stories, opinion pieces, arts and entertainment? How will that content be formatted? Will it live mainly online, in print or a 50-50 split? I'm learning that the staff wants to be perceived as a credible news source. It's my intent to steer them toward that goal."
Levy is pleased with the progress the students have made so far this semester, and has several long-term goals the group is working toward. Primarily, he'd like to see the organization collaborate more regularly with both WASU-FM and AppTV.
"The Appalachian isn't just a newspaper – I'd like our students to understand that they work for a multimedia organization," he said. "I want their experience here to prepare them for the professional world and working in a professional newsroom. Even if they choose not to pursue journalism as a career, I want them to learn skills like conflict resolution, interpersonal communications and how to work as a team while building their portfolios."
Eventually, Levy is also hoping to provide summer internship opportunities for students through his PBS show "Pedal America." On hiatus for now while he settles into his news adviser role, the show is produced on the road and features traveling the country by bicycle.
"Ideally, I'll produce the show in summers and give students the opportunity to travel with us as paid interns working as part of my Emmy-winning crew. They'll learn what it takes to produce a show on the road and how to be flexible and adaptable."
Levy is also planning to get students involved with his non-profit organization, Pedal4Life, which helps individuals fight addiction though cycling.
First, Levy and the students will focus on The Appalachian and meeting readers' expectations of what a newspaper should be.
"Our students are so much fun. They're also smart and teachable – they want to learn," he said.
"We have the resources in place to be one of the best student-run news organizations in the country, and it's our long-term goal to get there."
About the Department of Communication
One of seven departments housed in the College of Fine and Applied Arts, the Department of Communicationat Appalachian State University focuses on preparing students to succeed in the varied fields within the communication industry. The department offers five majors – advertising, communication studies, electronic media/broadcasting, journalism and public relations – and a minor in communication studies. Graduates work in a wide range of positions in media, corporate, agency, government and nonprofit organizations.
About Appalachian State University
Appalachian State University, in North Carolina's Blue Ridge Mountains, prepares students to lead purposeful lives as global citizens who understand and engage their responsibilities in creating a sustainable future for all. The transformational Appalachian experience promotes a spirit of inclusion that brings people together in inspiring ways to acquire and create knowledge, to grow holistically, to act with passion and determination, and embrace diversity and difference. As one of 17 campuses in the University of North Carolina system, Appalachian enrolls about 19,000 students, has a low student-to-faculty ratio and offers more than 150 undergraduate and graduate majors.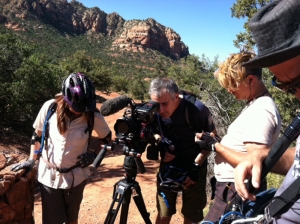 Tags: