The First Year Showcase at Appalachian State University: Debuting the Fresh Faces in Theatre and Dance
BOONE, NC - The Appalachian State University Department of Theatre and Dance is proud to continue their annual tradition by kicking off its season with the 2022 First Year Showcase (FYS). The department's students are responsible for the creation and performance of the production, which will utilize outdoor campus spaces to create site-specific works in a variety of dance and theatre styles. The showcase opens on September 29, and continues on October 1 and 2, 2022.
Audience members will enjoy guided walks departing from the Greer Studio Theatre to view each of the dances and theatre vignettes in various locations around campus. Tickets are $7 for students and $10 for adults.
The First Year Showcase connects faculty, staff, upperclassmen, first-year students and transfers in order to create a united community of actors and dancers within the department. It is open to all students who are interested in majoring or minoring in any of the six degree concentrations within the department. This is an inclusive production incorporating anyone who wants to be involved.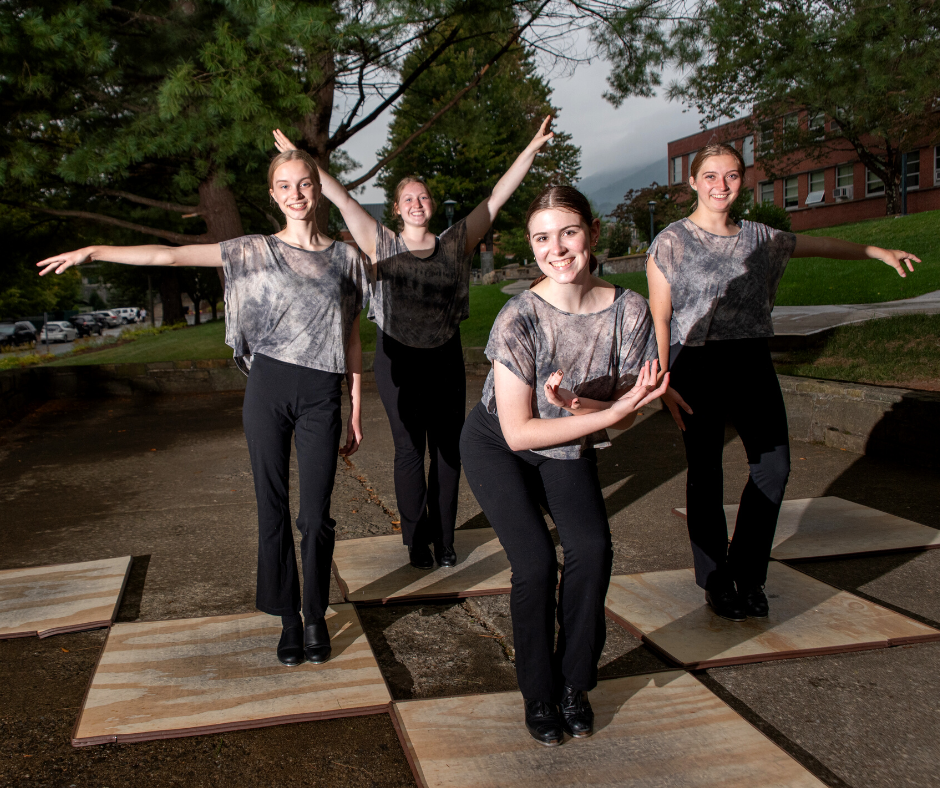 The theme for this year's FYS is "Chaos and Calm," a choice that was made by the student directors in response to discussions after auditions and in response to current issues around the world in which we live.
Associate Professor Derek Gagnier is the faculty coordinator for the theatre aspect of the program. Gagnier says, "This year's First Year Showcase will incorporate two student directors, Natalie Jones and Savanna Hodge. We are looking forward to two short, constructed pieces using improv and the scripted word to create a theatre experience that goes from chaos to organization... and back again."
Professor Marianne Adams will be coordinating the dance component of the showcase, alongside student choreographers. "As an instructor," says Adams, "my job this year is to act as a mentor to the students."
Senior Caroline Friend, a Dance Studies major from Holly Springs, NC, has choreographed a work titled, "Where We Are." It is a modern-style piece that explores the idea of individuality and loneliness in the world. There are seven billion people on earth yet we all still feel lonely. How do we find community and grow through those feelings
Consisting of two theatre vignettes and four dance pieces, the 2022 First Year Showcase is sure to be full of surprises. With family weekend occurring during the show's run, Appalachian families have the opportunity to see the talent and drive of the department as it kicks off the 2022-23 Theatre and Dance season.
The showcase will begin at 6 p.m. on the evening of Thursday, September 29 and 1 p.m. on Saturday, October 1, with a final performance held at 2 p.m. on Oct. 2. The guided walking tour will meet outside Greer Studio Theater. For directions and parking information, see Visitor Parking.
Tickets for the showcase are $7 for students and $10 for adults. They may be purchased in person at the Schaefer Center for the Performing Arts, and the Valborg Theater box office during the week of the show. Readers can also purchase tickets by either calling 800-841-ARTS (2787) or visiting Box Office | Department of Theatre and Dance.
(Compiled by Laura Voytko on behalf of THR 3445 class members Jensen Giles, Allison Martin and Aline Millette.)
About the Department of Theatre and Dance
The Department of Theatre and Dance is one of seven departments housed in Appalachian's College of Fine and Applied Arts. Its mission is to facilitate transformative experiences for students and the public, which cultivate compassionate, creative and collaborative communities through theatre and dance. The department also offers coursework for integrated learning through the arts to the general university student population. Its dynamic co-curricular production program provides exemplary theatre and dance experiences to departmental students, the university community and the region.

About Appalachian State University
Appalachian State University, in North Carolina's Blue Ridge Mountains, prepares students to lead purposeful lives as global citizens who understand and engage their responsibilities in creating a sustainable future for all. The transformational Appalachian experience promotes a spirit of inclusion that brings people together in inspiring ways to acquire and create knowledge, to grow holistically, to act with passion and determination, and embrace diversity and difference. As one of 17 campuses in the University of North Carolina system, Appalachian enrolls over 20,000 students, has a low student-to-faculty ratio and offers more than 150 undergraduate and graduate majors.