Congratulations to Appalachian State University students who won awards from the Printing Industry of the Carolinas (PICA) collegiate graphic communications competitions. Junior graphic arts and imaging technology (GAIT) major Luke Crouch was recognized at the 50th annual PICA awards banquet in Concord on Saturday, April 16 for winning the NAPCO Best of Show category. He is the first student from the university to ever win this award in the history of the highly competitive PICA collegiate competition. Luke shared the stage with his instructor, Dr. Yu Ju (Mandy) Wu, to receive the award. He will also receive a $500 scholarship from NAPCO. Dr. Wu provided Luke with the instructional guidance in the area of packaging design and production that led to his creation of the "Lazarus Energy Bar Display".
CEO of NAPCO and alumnus of Appalachian State University Rocky Proffit personally presented the awards to Luke and Dr. Wu. During the presentation, he acknowledged the significance of the Graphic Arts and Imaging Technology program at Appalachian State University as a source of qualified graduates to fill the employment needs of more than 1,300 print and digital media companies employing 21,000 North Carolinians.
Luke hails from Holly Springs, North Carolina and is a graduate of Holly Springs High School. His interest in graphic arts and imaging technology began with event promotions and flyer and poster design. He also professionally produces electronic music and is a member of a performing duo.
Dr. Wu, a member of the GAIT faculty since 2011, is originally from Taiwan. She graduated from the National Taiwan University of Arts with master and baccalaureate degrees, and her doctorate is from Western Michigan University.
The annual PICA awards banquet recognizes both high school and college students who showcase excellence in creating professionally printed materials in the Carolinas. The Graphic Arts and Imaging Technology program has been winning PICA awards since 2001. This year, three of our students won the Best of Category, the highest level of the awards given. Congratulations to the following students!
Best of Category
Category: Digital Printing Inkjet Rigid
Entry Title: Lazarus Energy Bar Display
Student: Luke Crouch
Instructor: Yu Ju Wu
Best of Category
Category: Digital Printing: Toner
Entry Title: Boone Golf Club Poster
Student: Nathan Sherrill
Instructor: John Craft
Best of Category
Category: Offset Printing: 4-Color Process, Finished
Entry Title: The Daily Feast
Student: Kristen Poole
Instructor: Tom Reeves
Special Judges Award
Category: Digital Printing Inkjet Rigid
Entry Title: Wild Sents Packaging
Student: Kristen Poole
Instructor: Yu Ju Wu
Special Judges Award
Category: Digital Printing Inkjet Rigid
Entry Title: Cologne Box
Student: Sunny Turner
Instructor: Yu Ju Wu
Special Judges Award
Category: Digital Printing: Variable Data
Entry Title: Boone Portraits Variable Data Postcard
Student: Mary Anna Pendry
Instructor: John Craft
Special Judges Award
Category: Flexographic Printing
Entry Title: Hog
Student: Parker Arnold
Instructor: Tom Reeves
Award of Excellence
Category: Digital Printing: Toner
Entry Title: AEC Workshop Series Posterz
Student: Casey Quinn
Instructor: John Craft
Award of Excellence
Category: Digital Printing: Toner
Entry Title: Adobe Photoshop Book Cover
Student: J. Matt Marshall
Instructor: John Craft
Award of Excellence
Category: Digital Printing: Toner
Entry Title: Masquerade Poster
Student: Briana Ratley
Instructor: John Craft
Award of Excellence
Category: Flexographic Printing: 1-Color
Entry Title: Line Art
Student: Briana Ratley
Instructor: Tom Reeves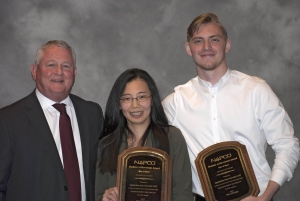 Tags: