Kelly Davis, an assistant professor of electronic media and broadcasting in the Department of Communication at Appalachian State University, has directed the third season of "A Craftsman's Legacy," which begins airing at 3 p.m. Oct. 1 on UNC-TV (WUNE locally).
"A Craftsman's Legacy," a nationally televised program, airs weekly on public television and reaches more than 95 percent of the country. It follows host Eric Gorges, a renowned metal shaper and motorcycle builder, across the country as he documents what it means to be a modern-day maker of crafts. This season's show tells the stories of 13 craftspeople, spotlighting everything from soap making to sand casting.
"I loved working on the show," Davis said. "One of the great things about a show like this is that it gives you permission to speak to anyone you want. I met 13 different craftspeople and the level of expertise and artistry in their creations was breathtaking."
Davis obtained his Ph.D. from the School of Media and Journalism at UNC Chapel Hill after working several years for Oregon Public Broadcasting. At Appalachian since 2012, he has taught courses on such subjects as video production, editing and the production of short films. He also heads up Hogwild Films with his wife, Selena Lauterer. He has been a consultant for "A Craftsman's Legacy" since its first season and, at Gorges' request, he became its director last year.
Davis said he'll direct the fourth season of "A Craftsman's Legacy" and is working on arrangements that would enable him to do that, such as who'll cover his classes when he's gone. (To learn more about the program, visit www.craftsmanslegacy.com.)
Davis said he is looking for ways to get his students involved in "A Craftsman's Legacy."
"I was able to involve a student in the creation of some web videos for the series," he said. "I am able to bring my experiences back to the classroom by showing my students planning documents, rough cuts, etc. and using my experiences as real-world examples of the subjects we cover. And once, I was also able to take them to the set via Google Hangout, where they got to meet the crew and see them at work.
"I honestly think that it's a very useful thing for the students to have an instructor with fresh experiences to share, as well as a living example that there is, indeed, work out there after they graduate. I try to be as candid as possible about the challenges of production as well as the joys."
Communication at Appalachian State University
Appalachian's Department of Communication focuses on preparing students to succeed in the varied fields within the communication industry. The department offers five majors—advertising, communication studies, electronic media/broadcasting, journalism and public relations—and a minor in communication studies. Graduates of the department work in a wide range of positions in media, corporate, agency, government and nonprofit organizations. The Department Communication is one of seven departments housed in the College of Fine and Applied Arts. To learn more, visit asucom.appstate.edu.
About Appalachian State University
Appalachian State University, in North Carolina's Blue Ridge Mountains, prepares students to lead purposeful lives as global citizens who understand and engage their responsibilities in creating a sustainable future for all. The transformational Appalachian experience promotes a spirit of inclusion that brings people together in inspiring ways to acquire and create knowledge, to grow holistically, to act with passion and determination, and embrace diversity and difference. As one of 17 campuses in the University of North Carolina system, Appalachian enrolls about 18,000 students, has a low faculty-to-student ratio and offers more than 150 undergraduate and graduate majors.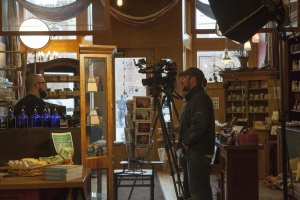 Tags: