This spring, students in the Interior Design Studio V Collaboration Studio, led by Dr. Hessam Ghamari, Assistant Professor of Applied Design, partnered with Appalachian State nursing students to develop healthy environments for patients at the Foley Healthcare Center.
Ghamari's students, in collaboration with senior nursing students under supervision of Tyia Dawson, Clinical Faculty in the Department of Nursing, worked to achieve design goals surrounding two different projects. The first project's goal was to develop and design different prototypes of patient rooms while enhancing the patient and family visitors experience. The second project executed by students was to design a typical patient floor unit considering using a centralized or decentralized nurse's station.
"The collaborative project was an interesting experience, but it was really important for us to have," said Kayla LaChance, a senior interior design major from Marion, N.C. "In the design industry, every project is an interdisciplinary team effort."
The students worked with nursing students and faculty members to address design issues from the caregiver's' perspective. While working on this project, students had the opportunity to visit the Foley Healthcare Center to speak with faculty, analyzing the facility from interior design perspective.
Following the pre-design phase, students developed their ideas and recommended solutions to design healthier environments.
Gissela Teran, a senior interior design major from Charlotte, N.C. reflected on the incredible real-world experience she gained from working with the Collaboration Studio.
"It can be hard to work with more than one other person, but learning about a person's personality is important, so that you know what they need and what they're good at," stated Teran. "This is important for the real world. Everything I'll do in a work environment is a team effort, so learning how to work with different personalities types has helped me grow as a person and grow in my leadership skills."
About the Department of Applied Design
One of seven departments housed in the College of Fine and Applied Arts, the Department Applied Design at Appalachian State University fosters excellence in design education, design research and professional placement. The department balances theoretical and pragmatic approaches while exploring an awareness of impact through design decisions on the global community. Faculty focus on a holistic approach to creative problem-solving by integrating sustainability and ethical responsibility in teaching and practice. The department offers bachelor's degrees in apparel design and merchandising, industrial design and interior design.
About the College of Fine and Applied Arts
Appalachian State University's College of Fine and Applied Arts is a dynamic and innovative group of seven academic departments, bringing together a variety of perspectives, experiences and real-world education to provide unique opportunities for student success. The college has more than 3,000 undergraduate and graduate majors. Its departments are Applied Design, Art, Communication, Military Science and Leadership, Sustainable Development, Sustainable Technology and the Built Environment, and Theatre and Dance.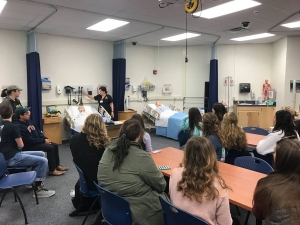 Tags: