By Anna Rhodes
"The Schaefer Center Presents…" series, produced by Appalachian State University's Office of Arts and Cultural Programs, continues its 2017–18 season with a production of the Tony Award-winning best musical "Sweeney Todd: The Demon Barber of Fleet Street" at 7 p.m. on April 13 and 14 and 2 p.m. on April 15 at the Schaefer Center for the Performing Arts. The production is a collaboration between the university's Department of Theatre and Dance in the College of Fine and Applied Arts and the Hayes School of Music.
A team of student dramaturgs, working under the tutelage of Assistant Professor of Theatre Arts Dr. Derek Davidson, has been hard at work for more than a year leading up to the production. "They are an essential part of the creative team," said the stage director Keith Martin, the John M. Blackburn Distinguished Professor of Theatre. "Without their unrelenting efforts, our production would lack the accuracy and authenticity that audiences expect from an educational institution the caliber of our fine university."
According to Phyllis Kloda, dean of the College of Fine and Applied Arts, faculty and student involvement in "Sweeney Todd" spans far beyond performance, design and technical work.
"Their work includes extensive historical research - dramaturgy - that informs all aspects of the production," she shared. "Dramaturgy is critical for facilitating discussions among the artistic team and the public. It is an important part of our theatre curriculum here at App State."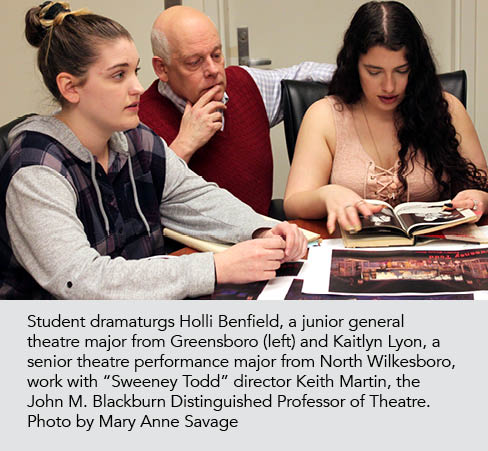 Simply speaking, dramaturgy is a critical aspect of the planning process that involves the research of the context, history and background of any given play. In his production notes for "Sweeney Todd," Davidson writes that "dramaturgy is one of the more obscure roles in the world of theatre. The dramaturg's duties change and flow with the process of a production. Researching unfamiliar words, discovering information about specific locations, and making sure the production is historically accurate are a few things that come natural to any dramaturg's work. One of the main goals of dramaturgy is to know as much about 'the world of the play' as possible so that when director, designers and actors need information, it can be supplied."
The student dramaturgs, along with Davidson, have coordinated pre-show lectures free of charge prior to each performance of "Sweeney Todd." These conversations will provide audience members with background information about the production and its creators, a historical context of 19th Century London, an overview of the numerous show themes and answers to the all-important question, "Why this play now?" The lectures begin 60 minutes prior to each curtain and will take place in the Hayes School of Music, room 119.
The student dramaturg team for "Sweeney Todd" includes students Holli Benfield, a junior general theatre major from Greensboro; Jamie Brigman, a junior general theatre major from Indian Trial; Kaitlyn Lyon, a senior theatre performance major from North Wilkesboro; and Mackenzie Smith, a senior theatre performance major from Concord.
Davidson expressed his excitement at the work he and the students have done for the production. "I love working as a dramaturg because the dramaturgical process is the one I utilize for any play on which I'm working. It doesn't matter if I'm the playwright, director or actor; dramaturgs go both wide and deep… they don't just look at the surface of the play."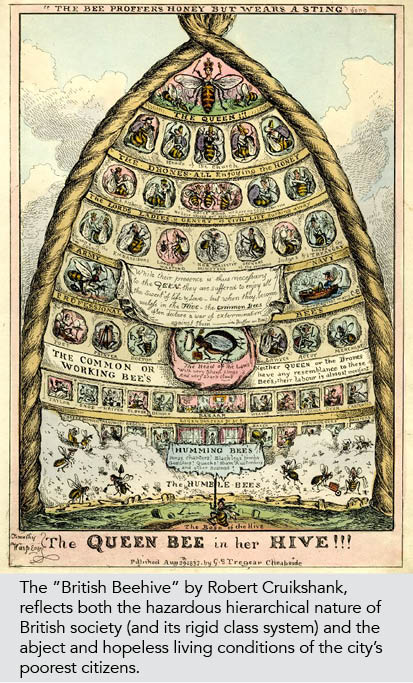 The students, known informally as "The SweeneyTurgs," agreed wholeheartedly that the role of a dramaturg is crucial to the construction of any play. "Dramaturgy is important to every aspect of theatre because it helps the actors and the audience understand the world of the play," said Benfield. "'Sweeney' is a tough world to wrap your head around, so our work has been extensive. From researching overarching themes and ideas to looking up specific Victorian-era English phrases, it's been rewarding to do work focused on the roots of the show rather than just the surface."
Smith, who also plays the pivotal role of the Beggar Woman in the musical, backed up that assertion and added, "I've loved being one of the dramaturgs, because I'm allowed to view the show from two different vantage points, as a production team member and a cast member. I've always tried to be a responsible and accommodating actor but being on the other side of the fence has given me a fuller understanding of how detailed the work must be going into a production as big as 'Sweeney Todd.' My dramaturgy work has been a help in developing my character, and its part of my job to help other actors in their research."
Citing the rapid changes in technology, a wage gap that seems impossible to bridge, the unrest and displeasure with government and an abundance of violence and protesting, Lyon noted that she sees many similarities between the Industrial Revolution and the current time in which we're living. "The violence isn't just physical, it's also found in the passive violence being perpetrated against those who are oppressed by the ones in power. Many people see history as a straight line, but it's more circular than one might think. 'Sweeney' is a good example of that fact and it's a cautionary tale, a call to action for those of us living in an eerily similar system to make a change, lest we end up like the characters in this play."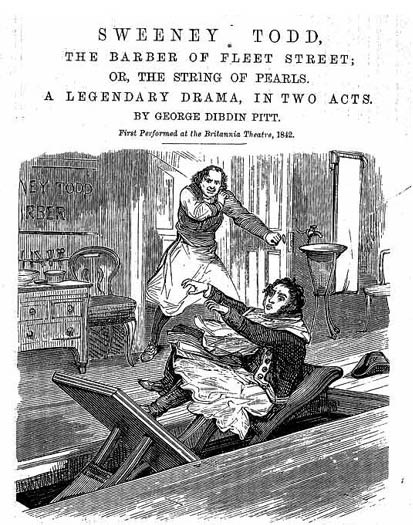 When asked why this musical is particularly relevant, Smith said, "The most important thing to keep in mind when watching 'Sweeney Todd' is permitting the show to be more than what it is at face value; let it hang onto your thoughts for a while. We have the expected protagonist and antagonist, but we don't see a 'hero' or 'villain.' Almost all of the characters have committed some kind of sin or morally-indecent act. Because of this fact, 'Sweeney Todd' is more than just a form of entertainment. It's asking you to participate, think about what you're watching and what you will do about your own circumstances going forward."
"Sweeney Todd: The Demon Barber of Fleet Street" is presented through special arrangement with Music Theatre International (MTI). Please note that this production is rated PG-13 and includes violent content, theatrical fog, and gunshot effects.
Tickets are $20 for adults, Appalachian faculty/staff and retired faculty/staff, and $10 for students. For more information, call the Schaefer Center Box Office at 800-841-ARTS (2787) or 828-262-4046, or visit http://theschaefercenter.org.
The Schaefer Center for the Performing Arts is located at 733 Rivers Street on the campus of Appalachian State University in Boone, NC. Parking for most Schaefer Center events is plentiful. After 5:00 p.m. on weekdays, and at all times on weekends,Schaefer Center patrons may use any available parking lot on campus. The Raley and Edwin Duncan parking lots are right across Rivers Street—access them at the traffic light directly in front of the center. The Stadium parking lot is behind the center—access from Stadium Drive. Covered parking is available at both the Rivers Street Parking Deck and the College Street Parking Deck. Contact the Parking Office at (828) 262-2878 or visit http://parking.appstate.edu for more information.
About "The Schaefer Center Presents"
"The Schaefer Center Presents" is a series offering campus and community audiences a diverse array of music, dance and theatre programming designed to enrich the cultural landscape of the Appalachian State University campus and surrounding area. By creating memorable performance experiences and related educational and outreach activities, the series promotes the power and excitement of the live performance experience; provides a "window on the world" through the artistry of nationally and internationally renowned artists; and showcases some of the finest artists of our nation and our region. Musical events range from symphony orchestra and chamber music performances to jazz, folk, traditional, international, and popular artists. Theatre productions run the gamut from serious drama to musical comedy. Dance performances offer an equally wide array of styles, from ballet to modern dance to international companies representing cultural traditions from around the world. For more information, visit http://theschaefercenter.org.
About the Department of Theatre and Dance
The Department of Theatre and Dance is one of seven departments housed in Appalachian's College of Fine and Applied Arts. Its mission is to facilitate transformative experiences for students and the public, which cultivate compassionate, creative and collaborative communities through theatre and dance. The department also offers coursework for integrated learning through the arts to the general university student population. Its dynamic co-curricular production program provides exemplary theatre and dance experiences to departmental students, the university community and the region.
About the Hayes School of Music
The Hayes School of Music prepares young musicians for professional lives as performers, composers, music educators, music therapists, conductors, and music industry professionals, ensuring the next generation of musical leadership for the state, region, and nation. Noted for quality instruction by national and internationally recognized faculty musicians, the school offers four undergraduate degree programs and three graduate level programs. The school also engages the local and regional community with more than 190 concerts each year, giving students valuable performance experience.
About Appalachian
Appalachian State University, in North Carolina's Blue Ridge Mountains, prepares students to lead purposeful lives as global citizens who understand and engage their responsibilities in creating a sustainable future for all. The transformational Appalachian experience promotes a spirit of inclusion that brings people together in inspiring ways to acquire and create knowledge, to grow holistically, to act with passion and determination, and embrace diversity and difference. As one of 17 campuses in the University of North Carolina system, Appalachian enrolls about 19,000 students, has a low student-to-faculty ratio and offers more than 150 undergraduate and graduate majors.
###
Media Contact
Anna Gaugert
gaugertah@appstate.edu
Tags: