Alumni Elliot Keeley '16 and Devyn Vasquez '15, both graduates of the Appalachian State University Department of Art's studio BFA program, will have work featured in "Core," an exhibition of work from current and recent Penland Core fellows. The prestigious Core Fellowship Program is a two-year work-study fellowship at the Penland School of Crafts that offers emerging artists the opportunity to explore artistic interests and career possibilities in a supportive artistic community.
Keeley is curating the exhibit, which is on display April 4-12 at HOW Space at 182 Howard Street in downtown Boone. The exhibition includes print, ceramics, metalsmithing, textiles, painting, drawing, glass and much more, and is designed to showcase the ways in which Core fellows tailor their experience to their interests as artists who become extremely specialized in a specific craft, or artists who are able to transmute their ideas across media.
"As a Core fellow, what I enjoy most is the freedom to explore a range of different media and classes that Penland offers in an incredibly supportive environment," shared Keeley. "After graduating, I was looking for a way to extend my studio practice, but not necessarily continue to graduate school. The Core Fellowship offers an alternative to academia in a place that has an extremely tight-knit and welcoming community, and simultaneously a place where artists can come to take workshops and meet people from around the country and the world."
In addition to the exhibition, an artists' reception for Keeley and Vasquez will be held in conjunction with the Boone First Friday Art Crawl on April 6 from 6-9 p.m. at HOW Space.
About the Department of Art
One of seven departments housed in the College of Fine and Applied Arts, theDepartment of Artat Appalachian State University prepares students to explore art, identity, expression and creative problem-solving while challenging them to go beyond their previous limits by discovering new connections to culture. The department offers degrees in art and visual culture, art education, graphic design, studio art, commercial photography and graphic arts and imaging technology, with minors in art history, studio art, commercial photography and graphic arts and imaging technology.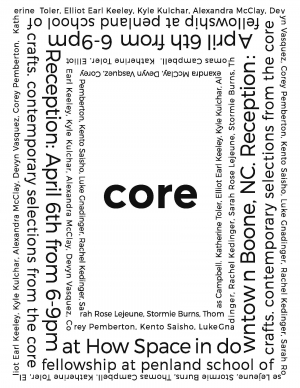 Tags: