Morgan Batley of Mooresville, North Carolina, has been awarded first place in the 2016 Association of Independent Corrugated Converters (AICC) 2016 Student Packaging Design Competition. Batley, a senior in the Thomas W. Reese Graphic Arts and Imaging Technology Program (GAIT), took home the highest honor in the Graphic Design category for her "Party Pack for App State Homecoming" design.
Batley created the design as part of a project in Dr. Mandy Wu's Introduction to Packaging class in spring 2016. All students were tasked with designing a party pack to hold tailgating staples like drinks and snacks. Wu challenged her students to design for the AICC competition and told the class she would submit the best project to the committee.
As an intern for Appalachian Athletics, Batley knew a little something about tailgating. "I went the extra step and added a space in my party pack for plates and napkins," she said. "It's all about the details."
Wu agrees that Batley has an eye for detail. "Morgan is a dedicated student who put a lot of time and thought into the project," she remarked. "She spent hours outside of class with me to modify and finalize the project, and it's that dedication and focused effort that propelled her to succeed in the competition."
In October, Batley traveled to the SuperCorrExpo in Orlando to accept her award and participate in the expo. "My goal was to be advocate for the school," she shared. "This was my first professional conference, and it was great to meet other winners and learn more about their universities and programs as well."
Next up, Batley's project will face off against the other first and second place category winners in a "best of the best" competition. During the next-level competition, her party pack will be judged on overall performance in addition to design.
The "best of the best" award winner will be judged by industry leaders on the International Corrugated Packaging Foundation's annual "Careers in Corrugated" live stream broadcast to schools in the U.S. and Canada in February 2017.
About the Department of Art
One of seven departments housed in the College of Fine and Applied Arts, the Department of Art at Appalachian State University prepares students to explore art, identity, expression and creative problem-solving while challenging them to go beyond their previous limits by discovering new connections to culture. The department offers degrees in art and visual culture, art education, graphic design, studio art, commercial photography and graphic arts and imaging technology, with minors in art history, studio art, commercial photography and graphic arts and imaging technology.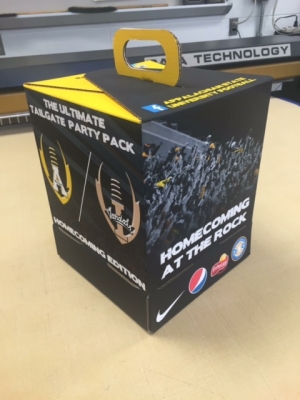 Tags: