By Amanda Brasier
A brief moment observing two young Rwandan boys gathering water from a rural pond influenced Tyree Wilmoth's decision to dedicate her future toward creating access to clean water.
Wilmoth, who graduates in spring 2021 with her master's degree in Appalachian State University's Appropriate Technology program, said she realized in that eye-opening moment in Africa that she had taken this precious resource for granted.
"My mom and I traveled to Rwanda to volunteer at an orphanage for a month after I graduated from high school in 2014," she said. "When we stepped outside the grounds of the orphanage, I saw two young boys carrying milk jugs for gathering water. They filled them with water from a stagnant pond with cows nearby. I realized then just how valuable and important clean water is, and that people don't always have access to drinking water that is safe."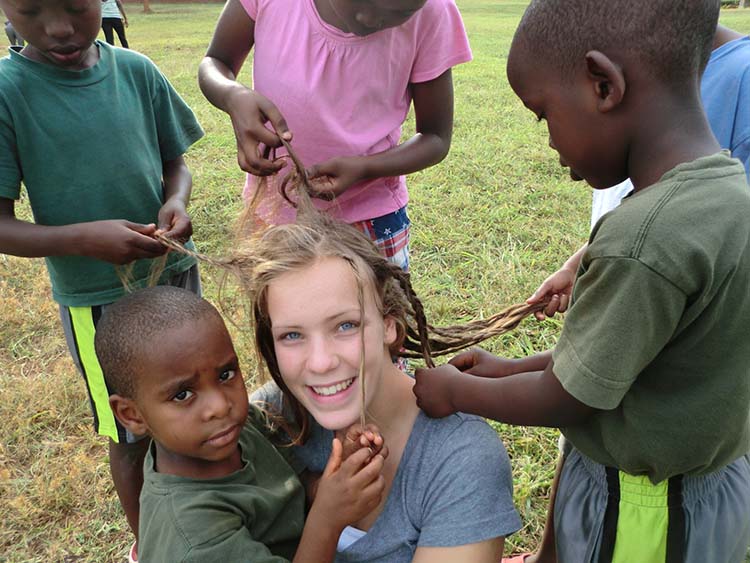 In her studies at App State, Wilmoth researched a variety of different natural energy systems, including water, with her thesis focusing on factors that affect water filter adoption and use in resource-limited communities. Based on her accomplishments, she was inducted into the Cratis D. Williams Graduate Honor Society and chosen as the College of Fine and Applied Arts' graduate student speaker.
Wilmoth is from Weaverville, North Carolina, and earned her undergraduate degree from Centre College in Kentucky. She was looking for an Appropriate Technology program when she discovered the Sustainable Technology and the Built Environment's advanced degree program at App State.
"I loved that at Appalachian's program I can learn about water as well as other energy systems, including wind, hydro, and bioenergy," she said. "Our program has students with different backgrounds, and I am not just a face in a sea of people here. I'm able to really engage with my professors and with my peers and learn from both of those groups."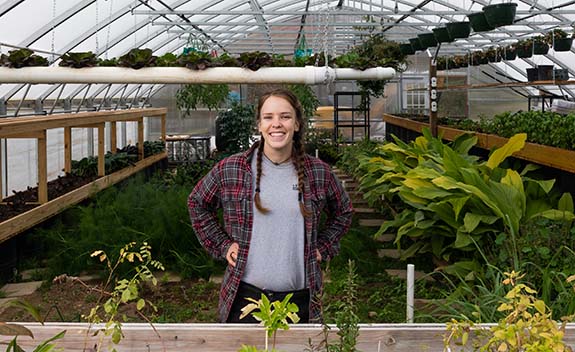 Wilmoth was able to get involved outside the classroom by working as a graduate assistant with the Office of Sustainability assisting with the university's Climate Action Plan to address carbon neutrality. She also worked as a graduate assistant with Dr. Jeremy Ferrell on the CERES greenhouse project, which will compare how a high-performance greenhouse at the Goodnight Family Sustainable Development Farm in Fleetwood, North Carolina, can advance the growing system and grow food more efficiently than a traditional greenhouse. To expand her experience in water access outreach and developmental aid, she interned with Wine To Water, an international non-profit based in Boone.
Wilmoth received a Chancellor's Fellowship and a departmental scholarship made possible by donors to Sustainable Technology and the Built Environment. "Without this funding, I would not be able to make my education possible and continue my graduate studies. I'm also able to work on projects that are happening locally and globally."
"In our day-to-day lives, we take access to clean water for granted," Wilmoth said. "In many parts of the world, clean drinking water is not available, and it contributes to illness and even death. My trip to Rwanda made me realize there are so many people who are water insecure, and it is a pivotal issue we need to address."
About Sustainable Technology and the Built Environment
One of seven departments housed in the College of Fine and Applied Arts, the Department of Sustainable Technology and the Built Environment at Appalachian State University features an integrated array of programs spanning the fields of sustainable design and technology. Its mission is to foster a strong and vibrant culture of inquiry, discovery and innovation that integrates theory with application, problem seeking with problem-solving, local issues with global perspectives and technological progress with environmental stewardship. It offers bachelor's degrees in sustainable technology and building science, and a master's degree in technology. Learn more at https://stbe.appstate.edu.
About the College of Fine and Applied Arts
Appalachian State University's College of Fine and Applied Arts is a dynamic and innovative group of seven academic departments, bringing together a variety of perspectives, experiences and real-world education to provide unique opportunities for student success. The college has more than 3,000 undergraduate and graduate majors. Its departments are Applied Design, Art, Communication, Military Science and Leadership, Sustainable Development, Sustainable Technology and the Built Environment, and Theatre and Dance. Learn more at https://faa.appstate.edu.