Dr. Hessam Ghamari, Mitzi Cook and Dr. Dave Domermuth, all faculty in the Department of Applied Design at Appalachian State University, presented work at the Environmental Design Research Association's 47th annual conference held in Raleigh May 18-21. The conference, hosted by North Carolina State University's Department of Design and BBH Design, focused on innovation and shifting ground in the design industry.
Ghamari and two undergraduate research assistants, Elise Curti and Madeleine McKenzie, presented findings from their study "Visual Environmental Attributes / Elements of Wayfinding in Unfamiliar Healthcare Environments" on May 19. Ghamari also presented "Architectural Factors of Perceived Space Attractiveness in Subway Stations (Case Study: Tehran Subway Stations)" on May 21.
Cook and Domeruth presented "What Makes It "Sexy Design" at the poster session on May 20.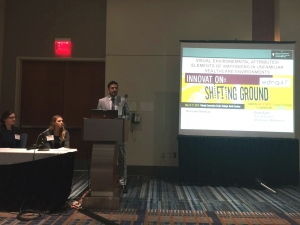 Tags: