Stacey L. Kirby, a Durham-based artist, recently created "The Department of Civil Presence" exhibit at Appalachian State University. This site-specific installation is embedded along a corridor of offices on the first floor of Edwin Duncan Hall on the university's campus and will be activated during an interactive performance on March 21 from 5-7 p.m.
The installation is loosely based on the United States Citizenship and Immigration Services agency, with a nod towards the aesthetics of post-World War II-era office culture. During the performance, visitors will be asked to undergo an assessment of their civil presence that engages rituals of citizenship, from filling out governmental forms to pledging allegiance. Kirby will lead these assessments along with students and community members performing as officers during the event.
To accompany the installation and performance, the Department of Art's Smith Gallery is featuring a selection of Kirby's past projects.
Along with video documentation of some of Kirby's other performance works, students in the art department have created a large-scale mural based on Kirby's "Yo Soy Vàlida" billboard that was shown along the Durham Freeway in the months leading up to the 2018 mid-term elections. The message of the piece, "I am Valid," boldly affirms the presence of Latinx people in the US.
Community partners for the project include Ando, a citizen news magazine operated by local teen Rafael Vazquez and his family, and Appalachian's Hispanic Student Association.
###
About the Artist
Stacey L. Kirby is a queer artist based in Durham, North Carolina. For over a decade, Kirby has combined installation and performance to create 'performative interactions' in alternative, private and public spaces. Fueled by the current political climate and ethnographic research, her work addresses issues of identity, citizenship and civil rights. Kirby invites visitors to become active participants and performers in her work to empower the voice within all of us.
Kirby is a recipient of the ArtPrize Eight Juried Grand Prize, a NC Arts Council Artist Fellowship for Visual Artists along with many other awards. Her work takes place in environments ranging from traditional art spaces,to vacant historic buildings and billboards. Kirby has performed and exhibited at ArtPrize (Grand Rapids, MI), the Southeastern Center for Contemporary Art (Winston-Salem, NC), the Nasher Museum of Art at Duke University, Bard College, Flux Factory (Queens, NY), and Fraction Workspace, (Chicago, IL).
About the Smith Gallery
The Department of Art's Smith Gallery is a vibrant contemporary art space, housed in the Schaefer Center for the Performing Arts. It presents original and travelling exhibitions, features work by faculty and students at the university, and commissions daring new art in all of its forms. The gallery is open Monday through Friday from 10 a.m. 5 p.m. In the Schaefer Center for the Performing Arts, 731 Rivers Street, Boone, NC 28608. Contact Jennie Carlisle at carlislejk@appstate.edu for more information and if you would like to schedule a time to see the Edwin Duncan installations. Admission to all gallery programs is free.
About Appalachian State University
Appalachian State University, in North Carolina's Blue Ridge Mountains, prepares students to lead purposeful lives as global citizens who understand and engage their responsibilities in creating a sustainable future for all. The transformational Appalachian experience promotes a spirit of inclusion that brings people together in inspiring ways to acquire and create knowledge, to grow holistically, to act with passion and determination, and embrace diversity and difference. As one of 17 campuses in the University of North Carolina system, Appalachian enrolls about 19,000 students, has a low student-to-faculty ratio and offers more than 150 undergraduate and graduate majors.
Media Contact:
Jennie Carlisle, Director
The Smith Gallery at Appalachian State University
215.421.7118 / carlislejk@appstate.edu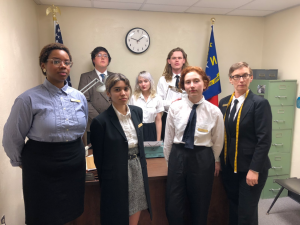 Tags: