By Jennie Carlisle
**Update: Due to forecasted inclement weather, the procession has shifted to become a festive party inside HOW Space instead of a parade down Howard Street. The hat-making workshop will take place as planned from 4-6 p.m., and the party and potluck will be held from 6:30-10 p.m. in HOW Space at 182 Howard Street.**
High Country Spring Procession, a lively community art parade celebrating springtime and life, will take place along Howard Street in downtown Boone on May 5 during the town's First Friday festivities. The event is free and open to the public.
The parade line-up is at 6:30 outside of the College of Fine and Applied Arts' HOW Space at 182 Howard Street and the parade will take place from 7-8 p.m. A free hat-making workshop will be held prior to the parade from 4-6 p.m., and the evening will conclude with a community potluck from 8-10 p.m. All events will be family-friendly and will take place at HOW Space.
In addition to the hat-making workshop, those wishing to participate in the parade are encouraged to dress up, carry photographs and build walkable floats in honor of family, local connections and cultural heritage. All costumes are welcome, but not necessary to take part in the procession. No pre-registration is required.
Participants will be joined by more than 200 additional children and community members who have been working on a diverse range of objects to carry in the parade, from cabbage lanterns and mountain costumes to maypoles, ribbon waterfalls and native fish hats.
The parade will culminate in a lantern lighting event at the old Boone cemetery and will also feature performances by local musicians and dancers, including the Steely Pan Band and the Sheets Family Band.
The event is organized by the Smith Gallery at Appalachian along with artist Ed Woodham to promote the depth and diversity of our community connections, as well as a sense of shared history and public space through art. The project originated during a site visit with Woodham in the fall of 2016 to meet community groups and consider how to better connect the university and town.
In April of 2017, Woodham returned to campus to facilitate workshops with 250 students. The groups created Mardi Gras-style medallion necklaces to be given away during the parade.
Parade organizer Jennie Carlisle is thrilled for the opportunity to strengthen relationships in the Boone community.
"A parade is a terrific way to bring people together to celebrate what gives a community its particular character, to reflect on the people and things that make local culture special and to literally take that sense of pride and togetherness to the streets," she said. "Because each group participating in the parade gets to decide what and how to make what they carry, there is so much spontaneity and energy built into the process – it's great."
High Country Spring Procession is sponsored by Appalachian's Department of Art, College of Fine and Applied Arts, Office of the Chancellor and HOW Space with additional support from the Town of Boone and Cheap Joe's Art Supply.
For more information, contact Smith Gallery Director Jennie Carlisle at carlislejk@appstate.edu.
####
About the Smith Gallery
Located in the Schaefer Center for the Performing Arts, The Smith Gallery provides opportunities for direct engagement with contemporary works of art and design for students, faculty and community members of Appalachian State University. The Gallery presents original and traveling exhibitions, features works by faculty and students, and enriches its programmatic offerings through collaborative projects. The Gallery actively involves students in its exhibitions and programming by serving as a site for honing curatorial, presentation and installation abilities.
About the Artist
Ed Woodham has been active in community art, education, and civic interventions across media and culture for over twenty-five years. Responding to constriction of civil liberties, Woodham created the project Art in Odd Places presenting visual and performance art to reclaim public spaces in New York City and beyond. In New York, Woodham teaches "City as Site: Public Performance and Social Intervention" at the School of Visual Art, as well as workshops in politically based public performance at New York University's Hemispheric Institute's EMERGENYC. He was a 2013 Blade of Grass Fellow in Social Engagement. For 2016 he was commissioned to create a socially engaged work for Jamaica FLUX 2016 at The Jamaica Center for Arts and Learning in Queens, NY and also was commissioned by the Gowanus Public Art Initiative to create the performance work, "The Keepers," in his longtime neighborhood of Gowanus, Brooklyn. For 2017-18, he was selected as an artist in residence for Arts Board at the University of Virginia Art School in Charlottesville.
About Appalachian State University
Appalachian State University, in North Carolina's Blue Ridge Mountains, prepares students to lead purposeful lives as global citizens who understand and engage their responsibilities in creating a sustainable future for all. The transformational Appalachian experience promotes a spirit of inclusion that brings people together in inspiring ways to acquire and create knowledge, to grow holistically, to act with passion and determination, and embrace diversity and difference. As one of 17 campuses in the University of North Carolina system, Appalachian enrolls about 18,000 students, has a low student-to-faculty ratio and offers more than 150 undergraduate and graduate majors.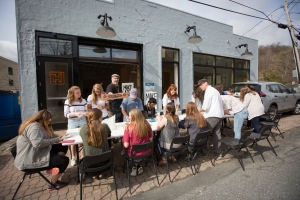 Tags: