By Nancye Edwards
The Department of Theatre and Dance at Appalachian State University is proud to announce the return of its Summer Dance Series this June. This unique opportunity for summer dance instruction is available to anyone in the community. The series offeres classes in a variety of dance styles for beginning and intermediate dance enthusiasts and runs Tuesday, June 6 through Thursday, June 29.
"Our annual Summer Dance series gives our community an opportunity to gather together and experience a variety of dance forms and styles," says Theatre and Dance Department Chair Kevin Warner. "We have classes for all ages and ability levels, and we particularly encourage folks who have never participated to join us on campus this summer."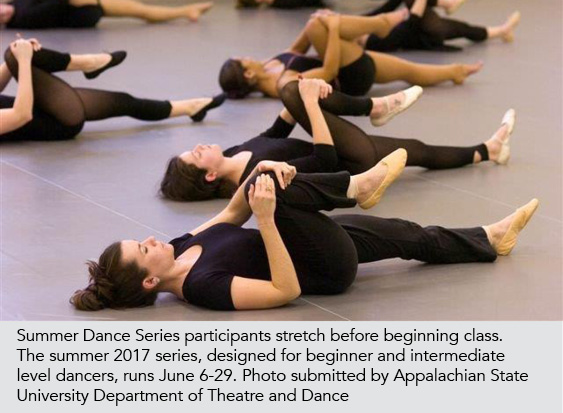 Regina Gulick, the series coordinator and creator, started the initiative as a way to stay in shape over the summer by giving ballet classes for friends.
"Soon, other teachers, students going to summer school and friends in the community wanted to join us in offering classes of their own and taking classes," said Gulick, who is also a senior lecturer in Appalachian's Theatre and Dance Department. "This gave me the idea to have a space where teachers of varied dance backgrounds could share their ideas about technique, introduce new styles to the group and meet people on campus and in our community."
The Department of Theatre and Dance now sponsors the series. While classes are free, dancers are asked to make a nominal donation at each class to benefit the department's Visiting Artist and Dance Student Scholarship funds.
About the Summer Dance Series
Beginning June 6 and running through June 29, the dance series will be offered from 5:30–6:45 p.m. every Tuesday, Wednesday and Thursday in Varsity Gym room 208. Participants can choose to attend some or all of the classes in the series. Children ages nine and under are welcome to attend with an adult, and parents are invited to take classes with their children. Participants under the age of 18 who wish to attend must have a parent sign a liability waiver form at their first class. For more information, or to be added to the distribution list, contact theatreanddance@appstate.edu. Check theatreanddance.appstate.edu for periodic schedule updates throughout the month of May.
Varsity Gym is located directly across from the parking deck on Rivers Street and connected to Roess Dining. The walking bridge from the 2nd floor of Rivers Street Parking Deck leads to the main lobby of the dining hall. The entrance to Varsity Gym is located to the left after exiting the main lobby of Roess Dining Hall. Dance Studio 208 is on second floor of Varsity Gym.
About the Department of Theatre and Dance
The Department of Theatre and Dance is one of seven departments housed in Appalachian's College of Fine and Applied Arts. Its mission is to facilitate transformative experiences for students and the public, which cultivate compassionate, creative and collaborative communities through theatre and dance. The department also offers coursework for integrated learning through the arts to the general university student population. Its dynamic co-curricular production program provides exemplary theatre and dance experiences to departmental students, the university community and the region.
About Appalachian State University
Appalachian State University, in North Carolina's Blue Ridge Mountains, prepares students to lead purposeful lives as global citizens who understand and engage their responsibilities in creating a sustainable future for all. The transformational Appalachian experience promotes a spirit of inclusion that brings people together in inspiring ways to acquire and create knowledge, to grow holistically, to act with passion and determination, and embrace diversity and difference. As one of 17 campuses in the University of North Carolina system, Appalachian enrolls about 18,000 students, has a low student-to-faculty ratio and offers more than 150 undergraduate and graduate majors.
###
Media Contact
Kevin Warner
warnerks@appstate.edu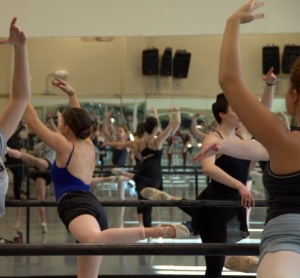 Tags: