The Appalachian State University Department of Theatre and Dance will present the 2018 "Fall Appalachian Dance Ensemble" (FADE) in the Valborg Theatre on the university campus Nov. 14–18. This annual, seasonal dance concert premieres eight original works by faculty, students and a guest choreographer and includes 7 p.m. performances Nov. 14–17 and a 2 p.m. matinee Nov. 18. Tickets are $10 for students, $15 for faculty and staff and $17 for adults and are available at theatreanddance.appstate.edu or by calling 800-841-ARTS (2787).
This year, guest artist Laura Pettibone Wright, a répétiteur from the Frederick "Erick" Hawkins Trust and original member of the late choreographer's dance company, has choreographed a piece for "FADE." She hosted a one-week residency in the Department of Theatre and Dance in October where she worked with 12 Appalachian dance students on the piece "New Moon."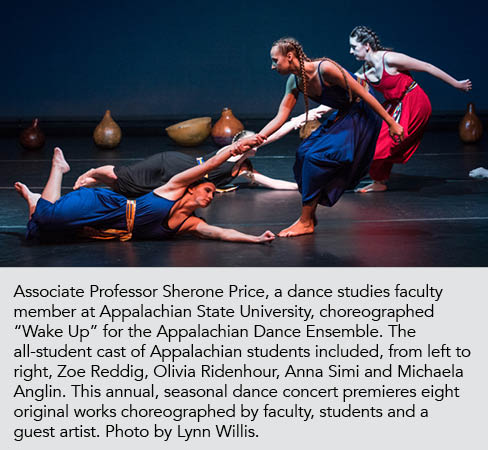 The student choreographers for "FADE" include Haley Bieckert, a senior dance studies major from Currituck County; Rachel Bohannon, a junior dance studies major from Wake Forest; Emma Dubinski, a senior dance studies major from Henderson; and Lyndsey Porter, a senior psychology major and dance studies minor from Irvine, CA. The dance faculty choreographers are Associate Professors of Dance Emily Daughtridge and Susan Lutz, and Professor Dr. Ray Miller.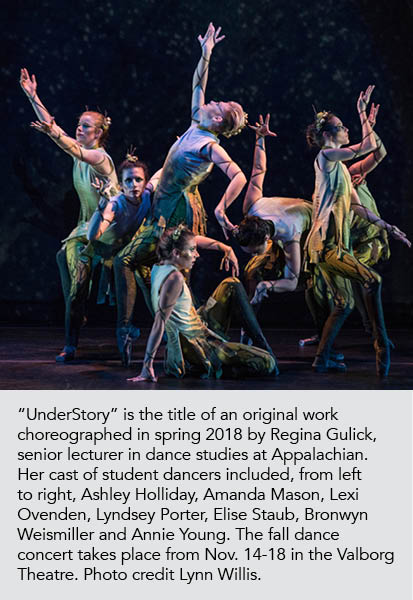 Lutz, who also serves as "FADE" coordinator, speaks on the uniqueness of the production by saying, "All of the pieces are so different because individual choreographers have a totally different style of movement for each work. They range from five minutes to 20 minutes in length, but all come together to create an aesthetically cohesive production."
The themes of the faculty dances include a response to school shootings by Miller, paying homage to true Cuban salsa in Daughtridge's work and exploring the concept of pointing by Lutz. Appalachian student choreographers examine how people cope with grief, explore the influence of insecurity, portray the act of manipulation and control between women and handle the feeling of being uncomfortable. All of these dances use the human body to convey thoughts, feelings and questions to the audience in a way that challenges them to better understand themselves and the world in which they live.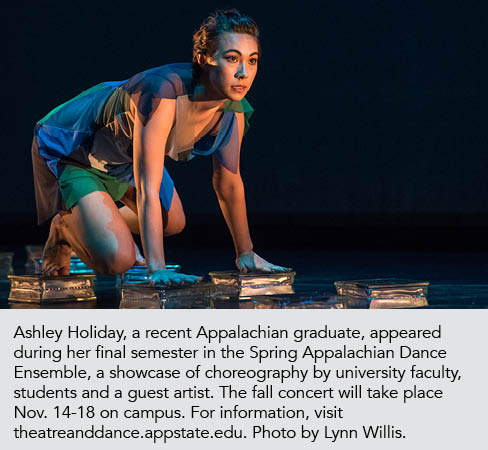 Senior theatre design/technology major Roxanne Waddell from Winston-Salem and sophomore theatre design/technology major Ethan Martin from Charlotte are working with Associate Professor of Theatre John Marty on lighting design. Costumes are being designed by Professor of Theatre Sue Williams and senior theatre design and technical production student Newman Jones from Rocky Mount.
The Valborg Theatre is a 334-seat modified thrust performance venue located on campus at the north side of Chapell Wilson Hall on Howard Street in Boone. The theatre entrance faces the back of the Turchin Center for the Visual Arts on King Street. Parking is available after 5 p.m. on campus in faculty/staff lots and after 5:30 p.m. in the College Street parking deck near Belk Library and Information Commons.
###
Media Contact
Keith Martin
(828) 262-8179
Martinkt1@appstate.edu
About the Department of Theatre and Dance
The Department of Theatre and Dance is one of seven departments housed in Appalachian's College of Fine and Applied Arts. Its mission is to facilitate transformative experiences for students and the public, which cultivate compassionate, creative and collaborative communities through theatre and dance. The department also offers coursework for integrated learning through the arts to the general university student population. Its dynamic co-curricular production program provides exemplary theatre and dance experiences to departmental students, the university community and the region.
About Appalachian State University
Appalachian State University, in North Carolina's Blue Ridge Mountains, prepares students to lead purposeful lives as global citizens who understand and engage their responsibilities in creating a sustainable future for all. The transformational Appalachian experience promotes a spirit of inclusion that brings people together in inspiring ways to acquire and create knowledge, to grow holistically, to act with passion and determination, and embrace diversity and difference. As one of 17 campuses in the University of North Carolina system, Appalachian enrolls over 19,000 students, has a low student-to-faculty ratio and offers more than 150 undergraduate and graduate majors.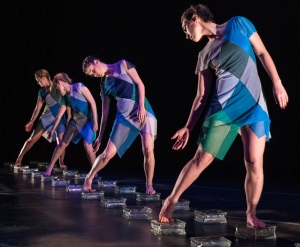 Tags: