The Appalachian State University Painting and Drawing Area in the Department of Art is delighted to present a group exhibition of students' work titled the Portrait Show. The exhibition will be on view at 3rd Place in Boone at 132 Appalachian St. There will be an opening reception on April 28th from 5 – 8 PM and the exhibition will be open to the public on April 29 from 1 p.m. to 3 p.m., April 30 from 2 p.m. to 3 p.m., and by appointment on May 1.
This exhibition is centered around the Portrait as a subject in painting, drawing, and printmaking. Portraiture has a unique place in art history- it can present us with insights into cultural, social, and political history, as well as identity and humanity. The theme of this exhibition is intentionally broad with the goal of soliciting as many submissions as possible. The goal of this event is to showcase the talents of students attending the Department of Art at Appalachian State University, to build community ties between the University and the local community, and to offer students the educational experience of organizing and participating in an exhibition outside of a (commercial) gallery setting.
This exhibition will be installed "Salon Style" and the variety of imagery promises to offer something for everyone. Ian Gabriel Wilson, the curator of Exhibitions and Collections at the Blowing Rock Art and History Museum will be serving as juror for the three best works in the exhibition. Generous support has been provided by the Department of Art at Appalachian State University, Cheap Joe's Art Stuff, Stick Boy Bread Company, and Harris Teeter to make this possible. Participating artists will be present at the opening reception.
It would be our great pleasure and honor to welcome you to view this exhibition and to experience the talent of students studying Art at Appalachian State University. For further information or to schedule an appointment to view the exhibition please contact Daniel Rich at richd@appstate.edu.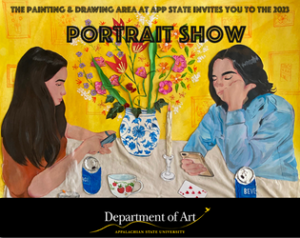 Tags: