Dan "Vallie" Hill, practitioner-in-residence in the Department of Communication and WASU-FM manager, is a 2016 Career Achievement inductee into the Georgia Radio Hall of Fame. The ceremony was held at the Strand Theatre on October 22 in Marietta, Georgia. Vallie Hill was one of eight Career Achievement inductees this year.
Georgia Radio Hall of Fame Career Achievement inductees are chosen through a members-only nomination and voting process. To be eligible, nominees must have been born in Georgia, and / or worked in radio in the state, and / or have been a citizen of Georgia who brought honor to the state through his / her radio career.
The nomination process is confidential, so Vallie Hill was surprised to learn he was a nominee. "I certainly didn't expect to get a call like that," he said. "They actually contacted my office and got further information without me knowing it and the office kept it from me until I was officially nominated."
Vallie Hill, who spent the bulk of his career as a radio programming executive, came to Appalachian in 2005 and is still very active in the industry. His affiliation with the Department of Communication and WASU, the student-run radio station, prompted the creation of the Kellar Radio Talent Institute, a farm system for students interested in pursuing a career in radio. The institute was his brainchild and has led to the National Radio Talent System, the umbrella company for the six institutes around the country.
Vallie Hill believes it was primarily his contribution through the National Radio Talent Institute that drove his nomination and subsequent induction. He's just happy to give back. "Most broadcasters will tell you radio is a special industry and that they love going to work every day," he remarked. "Why wouldn't anyone want a career they can say that about?"
About the Department of Communication
One of seven departments housed in the College of Fine and Applied Arts, the Department of Communication at Appalachian State University focuses on preparing students to succeed in the varied fields within the communication industry. The department offers five majors – advertising, communication studies, electronic media/broadcasting, journalism and public relations – and a minor in communication studies. Graduates work in a wide range of positions in media, corporate, agency, government and nonprofit organizations.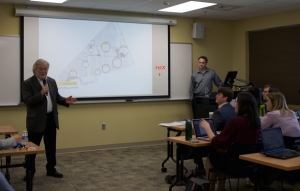 Tags: