Dan "Vallie" Hill, practitioner-in-residence in the Department of Communication and WASU-FM manager, was awarded the North Carolina Association of Broadcasters (NCAB) 2017 Wade H. Hargrove Community Leadership Award on June 15 at the annual awards luncheon in Durham. The award is given to North Carolina broadcasters who have demonstrated an abiding commitment to public service in their communities.
The award was presented by NCAB board member Dick Harlow, Vice President and Market Manager of DBC, Inc.'s WKZL and WKRR stations in the Greensboro / Winston Salem area. Harlow noted his outstanding work in connecting industry leaders with young professionals through the Kellar Radio Talent Institute. The institute, which "Vallie" Hill founded, is a farm system for students interested in pursuing a career in radio.
"Vallie" Hill was excited and surprised to learn he was this year's recipient. He believes the award demonstrates how the broadcast industry in North Carolina has embraced and welcomed the institute as a talent incubator for the industry and the talent farm system for radio.
"What is happening with the institute in North Carolina is now happening across America as we are discovering and coaching young talent who can be hired today to be the industry leaders of tomorrow," said "Vallie" Hill. "Appalachian and the Communication Department have a long history of helping develop talent for the broadcast industry, and the Kellar Radio Talent Institute has become a signature program for the university."
After spending the majority of his career as a radio programming executive and founding Vallie-Richards-Donovan Consulting, he came to Appalachian in 2005. His affiliation with the Department of Communication and WASU, the student-run radio station, prompted the creation of the Kellar Radio Talent Institute. The institute has led to the National Radio Talent System, the umbrella company for seven institutes across the country, including programs at the University of Georgia, University of Tennessee and Central Washington State.
About the Department of Communication
One of seven departments housed in the College of Fine and Applied Arts, the Department of Communication at Appalachian State University focuses on preparing students to succeed in the varied fields within the communication industry. The department offers five majors – advertising, communication studies, electronic media/broadcasting, journalism and public relations – and a minor in communication studies. Graduates work in a wide range of positions in media, corporate, agency, government and nonprofit organizations.
About Appalachian State University
Appalachian State University, in North Carolina's Blue Ridge Mountains, prepares students to lead purposeful lives as global citizens who understand and engage their responsibilities in creating a sustainable future for all. The transformational Appalachian experience promotes a spirit of inclusion that brings people together in inspiring ways to acquire and create knowledge, to grow holistically, to act with passion and determination, and embrace diversity and difference. As one of 17 campuses in the University of North Carolina system, Appalachian enrolls about 18,000 students, has a low student-to-faculty ratio and offers more than 150 undergraduate and graduate majors.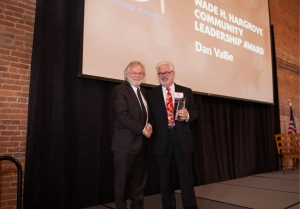 Tags: