By Amanda Brasier
Spending a summer teaching collaborative portraiture to people in prison. Presenting the link between feminist materialisms and clay at regional women's studies conferences. Traveling to South Africa, and studying abroad in Paris. Creating a podcast of Jewish children's holiday music with explanations of their origins.
Appalachian State University graduating senior Sope Kahn's college experiences have been anything but ordinary. As a double major in Art Education and Gender, Women's and Sexuality Studies and a member of the Honors College, Kahn says that they feel fortunate to have been encouraged by their professors to find ways to create art and express their individuality throughout their college experience. Kahn was selected as the undergraduate Commencement speaker for the College of Fine and Applied Arts for the Spring 2020 ceremony.
"My professors have encouraged me to develop critical thinking skills and to read and research so that we would be prepared for master's level coursework," they said. "That's really why I was able to go to conferences as an undergraduate and present research for the first time." Kahn was selected as a presenter at the 2018 and 2019 Southeastern Women's Studies Association conferences.
Even though Kahn originally planned to pursue a degree in studio art, they decided to teach, as well as create, art. "In high school, I was part of a youth leadership group for LGBTQ+ students and it helped me become more confident as a leader and facilitator. As I was facilitating that group, I realized that I could teach people, and that I can learn," they said.
In addition to finishing up their college career this semester as a student teacher at Wilkes Central High School, Kahn also spent some time last summer working with Appalachian Art Education Assistant Professor Dr. Albert Stabler with a program run by the Penland School of Craft that serves incarcerated individuals at Avery Mitchell Correctional Institution.
"I had never walked into a prison or been to a prison before," Kahn said. "It was interesting to teach collaborative portraiture and to be able to bring art into that space. As a future teacher, I'm very interested in the restorative justice process and trying to keep people in school."
The incarcerated men who participated in the summer class that Kahn proposed and facilitated were enthusiastic about creating a portrait of a famous person, Stabler said. "The students were all extremely engaged, positive, and enthusiastic about Sope's project, and expressed gratitude for being invited to think about drawing in a different way. I think they really enjoyed being able to bring contemporary forms of socially engaged artmaking to a repressive institutional space where that kind of process has a unique political as well as therapeutic significance."
Another memorable project that Kahn developed as a student was a podcast that featured Jewish holiday sing-a-long songs. "I worked on a podcast that is designed to help educators learn more about students through music and Jewish holidays," they said. "I interviewed Jewish children music writers and my extended family on their experiences growing up Jewish, with a goal to inform future or current educators on what environment Jewish children may come from and understand their cultural experiences."
Throughout their college experience, the ceramics studio continued to be a grounding place to practice art.
"Clay is such a very calming medium; it's connected to the earth and what you're doing and feeling," Kahn said. "When you're working with the wheel, you have to be calm or you'll mess up and it will come out in your work. Clay also has the power to help people who are stressed out. It has lots of possibilities."
The topic of "Queering Clay Bodies" is one Kahn explored in their senior thesis for the Honors College, and a topic the student plans to continue researching. "Looking beyond the normal and connecting and questioning things, you get to think about 'what does that reveal?'," said Kahn. "My thesis allowed me to investigate and think about the complexity of power identities and how they work. There is so much more to think about and investigate that I hope to be able to continue."
After graduating, Kahn plans to find a job teaching K-12 art in North Carolina, and eventually pursue their master's and doctoral degrees.
"Sope is seen by faculty and students across campus as a future teacher who prioritizes relationships, humor, equity, and inclusion, and as someone driven by their robust engagement with current, interdisciplinary scholarship," said Dr. Brooke Hofsess, Associate Professor of Art Education. "Sope far exceeded my expectations for undergraduate engagement with research that applies complex philosophy and theory in tactile, tangible, and transformative capacities in the K-12 art classroom. I fully anticipate Sope graduating from Appalachian State to make long lasting and important changes in the field of art education through their teaching and research."
One of seven departments housed in the College of Fine and Applied Arts, the Department of Art at Appalachian State University prepares students to explore art, identity, expression and creative problem-solving while challenging them to go beyond their previous limits by discovering new connections to culture. The department offers degrees in art and visual culture, art education, graphic design, studio art, commercial photography and graphic communications management, with minors in art history, studio art, commercial photography and graphic arts and imaging technology. Learn more at http://www.art.appstate.edu.
About the College of Fine and Applied Arts
Appalachian State University's College of Fine and Applied Arts is a dynamic and innovative group of seven academic departments, bringing together a variety of perspectives, experiences and real-world education to provide unique opportunities for student success. The college has more than 3,000 undergraduate and graduate majors. Its departments are Applied Design, Art, Communication, Military Science and Leadership, Sustainable Development, Sustainable Technology and the Built Environment, and Theatre and Dance. Learn more at https://faa.appstate.edu.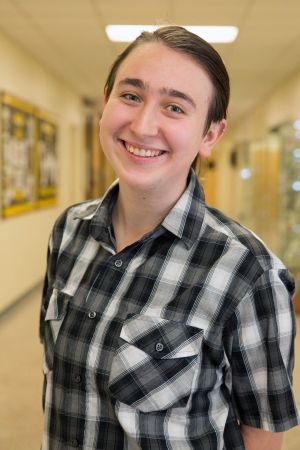 Tags: