By Amanda Brasier
Applied Design student Jake Still's work reimagining the mobile banking experience has been chosen as an award winner in an annual international competition from The Planning and Visual Education Partnership (PAVE) sponsored by Bank of America.
Still, a senior Interior Design major from Wesley Chapel, Florida, created one of the 350 entries from design programs around the country considered by the judges. He received third place overall, earning a cash prize.
"Before we started the project, we visited local banks, sat in the lobbies and watched the interactions and talked with tellers about what they could change about the banking experience," Still said. "I spent a lot of time thinking about the college experience and what type of mobile bank would work for students who are often in a rush. Since a lot of students ride bikes around campus, my design reflected that."
Still's mobile bank featured an ATM where bike riders could roll up to the window, a dispenser where customers could refill their coffee while waiting for their transaction and the ability to Facetime a teller with questions.
"When our students are working on a project like this one, we try to offer them the type of professional advice I received when working in a design firm," said Chelsea Helms, assistant professor of Interior Design, who worked at architecture and engineering firms in Boston and Raleigh before coming to Appalachian. "In an office or studio setting, it is important to take the ideas, refine them and continually embrace them, and then clearly and professionally represent the ideas graphically. Jake did a notable job of developing and executing his concept and then thoughtfully communicating his pitch, representing his ideas and the AppState Interior Design program commendably on an international platform."
This is the second national recognition Still has received from PAVE. Earlier this year, he joined fellow student Grace McCormick to design a pop up shop for The Container Store for the 2019 PAVE Globalshop Design Challenge.
About the Department of Applied Design
One of seven departments housed in the College of Fine and Applied Arts, the Department Applied Design at Appalachian State University fosters excellence in design education, design research and professional placement. The department balances theoretical and pragmatic approaches while exploring an awareness of impact through design decisions on the global community. Faculty focus on a holistic approach to creative problem-solving by integrating sustainability and ethical responsibility in teaching and practice. The department offers bachelor's degrees in apparel design and merchandising, industrial design and interior design. Learn more at https://design.appstate.edu.
About the College of Fine and Applied Arts
Appalachian State University's College of Fine and Applied Arts is a dynamic and innovative group of seven academic departments, bringing together a variety of perspectives, experiences and real-world education to provide unique opportunities for student success. The college has more than 3,000 undergraduate and graduate majors. Its departments are Applied Design, Art, Communication, Military Science and Leadership, Sustainable Development, Sustainable Technology and the Built Environment, and Theatre and Dance. Learn more at https://faa.appstate.edu.
About PAVE, www.paveglobal.org
Founded in 1992, the Planning and Visual Education Partnership's (PAVE) objective is to encourage students to study in the field of retail design and planning and visual merchandising. Additionally, PAVE seeks to encourage retail management, store planners, visual merchandisers, architects and manufacturers to interact with and support design students. These objectives are accomplished through competitions, projects, seminars, workshops and grants and scholarships funded by the annual Bash, Gala and other fundraising initiatives. PAVE is a 501(c)(3) educational foundation.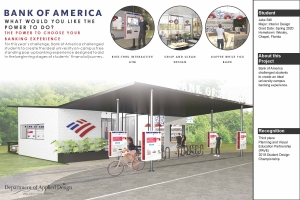 Tags: