"Sometimes you're an X... and sometimes you're a Y."

BOONE, NC – The Department of Theatre and Dance (T&D) at Appalachian State University is shining a light on differing cultural perspectives through the production of Christopher Chen's play "Passage" in the Valborg Theatre on the university campus. Performances are at 7 p.m. from Wednesday, November 1 through Saturday, November 4 with a 2 p.m. matinee on Sunday, November 5, 2023. Ticket prices are $17 for adults, $15 for faculty and staff, and $10 for students. For more information, call the Schaefer Center box office at 800-841-ARTS (2787) or visit the department website.


According to publisher and author's representative Dramatists Play Service, "Passage" is a fantasia inspired by E.M. Forster's "A Passage to India," Chen's play is set in the fictional Country X, which is a neocolonial client of Country Y. B, a local doctor, and F, an expat teacher, begin to forge a friendship that is challenged after a fateful trip to a local attraction. A meditation on how power imbalances affect personal and interpersonal dynamics across a spectrum of situations, the play allows a director wide latitude in casting the roles by race, ethnicity, and gender, with different casting choices highlighting different societal structures.
Christopher Chen is an award-winning, Chinese American playwright who has had his work produced in theaters all over the country, including the Guthrie, American Conservatory Theatre, Manhattan Theatre Club, San Francisco Playhouse, and Lincoln Center. He received his BA from UC Berkeley and his MFA in playwriting from San Francisco State. Before Chen discovered playwriting to be his preferred medium of artistic expression, he dabbled in film, music composition, directing, acting, and was part of a UC Berkeley Asian American theatre group called Theatre Rice. Awards and nominations include an Obie Award (for "Caught"), Paula Vogel Playwriting Award, Glickman Award (for "The Hundred Flowers Project"), and a Drama League Nomination (for "Caught").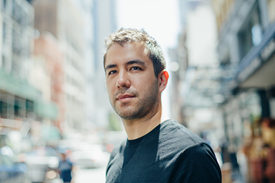 The production is under the direction of Professor Ray Miller, a faculty member in both theatre and dance. A directing, theatre history, and movement teacher, Miller's professional career spans over 200 musicals, operas, plays and/or dance concerts that he has directed and/or choreographed. His work has taken him to theatres in New York, Ohio, and much of North Carolina. Formerly, Miller was Coordinator of the Global Understanding program at Appalachian.


Dr. Miller said, "As I sit here writing the Director's Notes for the playbill, I, along with most of the world, sit on the precipice of an escalating war in the Middle East. All the while, the conflict in Ukraine continues unabated, and progress on environmental issues remains stymied. And on... and on... and on. All these current affairs and more inform our production of Chen's timely play."
According to Dr. Miller, "Chen encourages the audience to step away from being voyeurs on the human experience as we so often view it primarily in our films, television programs and any number of social media platforms through rectangular screens. He invites us to extinguish our electronic devices for a couple of hours, and to see – really see - that we are sharing a space and time with real flesh and blood actors. At the top of the show, he unveils the fact that these are your peers – fellow students – who are going to take on the characters in the play and, at the same time, invite you into the creation of this production. The design elements of the show encourage you "to walk into the story" and not simply "observe the story" from the safety of your seats."
The ten-member cast of "Passage" includes the following Appalachian State University students, listed in alphabetical order: Jaiden Campbell, Joey Diasparra, Madisyn Fleming, Tate Kapitza, Blake Lee, Nick Malloy, Anabel Merriam, Matisse Notte, McEwen Thornton, and Jordan Williams.
The scenic and lighting design is being created by Theatre Professor John Marty, with department staff members Matt Tyson and Kristin Grieneisen serving as technical director and costume shop supervisor, respectively. Student design contributions include costume design by Kat Counter, hair and makeup design by Ella Drymon, and sound design by Declan Lynch. Design and Technical Theatre major Lindsay Douglass is the stage manager for the production with classmate Evan Little serving as assistant director.
"Passage" is produced by special arrangement with Dramatists Play Service, Inc. in New York. For directions to the Valborg Theatre and information about campus parking, please see Visitor Parking.
(Authored by THR 3445 class members Bryce Guertin, Gwen Muncy-Champitto, and Brady Warlow.)
###
About the Department of Theatre and Dance
One of seven departments housed in the College of Fine and Applied Arts, the Department of Theatre and Dance's mission is to facilitate transformative experiences for students and the public, which cultivate compassionate, creative, and collaborative communities through theatre and dance. The department also offers coursework for integrated learning through the arts to the general university student population. Its dynamic co-curricular production program provides exemplary theatre and dance experiences to departmental students, the university community, and the region. www.theatreanddance.appstate.edu

About the College of Fine and Applied Arts
Appalachian State University's College of Fine and Applied Arts is a dynamic and innovative group of seven academic departments, bringing together a variety of perspectives, experiences, and real-world education to provide unique opportunities for student success. The college has more than 3,500 undergraduate and graduate majors. Its departments are Applied Design, Art, Communication, Military Science and Leadership, Sustainable Development, Sustainable Technology and the Built Environment, and Theatre and Dance. Learn more at https://cfaa.appstate.edu
About Appalachian State University
As the premier public undergraduate institution in the Southeast, Appalachian State University prepares students to lead purposeful lives. App State is one of 17 campuses in the University of North Carolina System, with a national reputation for innovative teaching and opening access to a high-quality, affordable education for all. The university enrolls more than 21,000 students, has a low student-to-faculty ratio and offers more than 150 undergraduate and 80 graduate majors at its Boone and Hickory campuses and through App State Online. Learn more at https://www.appstate.edu.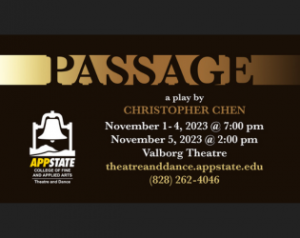 Tags: