Senior industrial design major Walter Mingledorff may have started his collegiate career at Tallahassee Community College but has found a home for his creativity in Boone. A native of Jacksonville, Florida, he transferred to Appalachian State University in fall 2014 and hit the ground running.
"I had always been interested in art in high school, so I transferred to App with a rough idea of what I wanted to do," he recalled. "When I arrived, I had to jump right in to the design classes because I was already a year behind."
And jump in, he did. His sophomore year, he enrolled in a course where he was tasked with designing and building a table — from sketching his original idea and putting it into a computer program to finding the right wood and working it into his final design — and decided to pursue the Department of Applied Design's furniture design concentration within the industrial design major.
"The furniture design program offers a lot of opportunity to explore your own interests and creative expression," he shared. "I submersed myself in the process of building the table and spending time in the woodshop, which really resonated with me. It felt very expressive."
This year alone, Mingledorff has won several awards for his furniture designs. In October 2017, he won the American Society of Furniture Designer's Student Pinnacle award for his "Calla" stool. In February 2018, he was awarded "Best in Show" during the Student Art and Design Expo at Appalachian for his lounger "I lost my Multi-tool from Tupelo" and took home second place in the Bienenstock Furniture Design Competition for his "Polly" chair.
According to furniture designer Alyssa Coletti, who is an adjunct in the department and taught Mingledorff, he learned and mastered difficult and unique processes to build several of his designs.
"Walter created both the 'Calla' stool and 'I lost my Multi-tool from Tupelo' lounger in my classes," she said. "In both of these projects, he used prototyping, 3D modeling and full-scale fabrication to bring his designs to life. Without his persistence during all aspects of the concept developments, he would not have achieved the same results."
Mingledorff is thrilled that his hard work and unique ideas have been recognized this year.
"Winning an award and having your work recognized is a great feeling," he said. "It's reassurance that someone else appreciates your work and your ideas aren't too crazy."
After graduation in May 2018, he'll begin an internship with Faye Toogood in London. He's excited to explore the studio's furniture and fashion design outlets during his time there.
About the Department of Applied Design
One of seven departments housed in the College of Fine and Applied Arts, the Department Applied Design at Appalachian State University fosters excellence in design education, design research and professional placement. The department balances theoretical and pragmatic approaches while exploring an awareness of impact through design decisions on the global community. Faculty focus on a holistic approach to creative problem-solving by integrating sustainability and ethical responsibility in teaching and practice. The department offers bachelor's degrees in apparel design and merchandising, industrial design and interior design.
About Appalachian
Appalachian State University, in North Carolina's Blue Ridge Mountains, prepares students to lead purposeful lives as global citizens who understand and engage their responsibilities in creating a sustainable future for all. The transformational Appalachian experience promotes a spirit of inclusion that brings people together in inspiring ways to acquire and create knowledge, to grow holistically, to act with passion and determination, and embrace diversity and difference. As one of 17 campuses in the University of North Carolina system, Appalachian enrolls about 19,000 students, has a low student-to-faculty ratio and offers more than 150 undergraduate and graduate majors.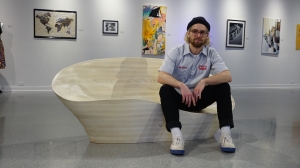 Tags: