A large-scale print installation by April Flanders, associate professor in Appalachian State University's Department of Art, was recently purchased by an anonymous donor who has gifted it to the Asheville Museum of Science. The piece, "Advance," is an acquisition for the museum's permanent collection and explores the impact of invasive species on the ecosystem.
Flanders, who has taught in the department since 2006, is passionate about addressing the issue of invasive species.
"The permanent placement of this piece in a museum that celebrates science provides exposure that could really raise awareness of this problem," she shared. "I want people to understand the complexity of the invasive species issue and how we are all a part of the system that creates it, so that we can work together on solutions."
This installation addresses the breadth of the invasive species problem in North America and Hawaii. To create the piece, Flanders gathered locally invasive plants to print brightly colored sheets of paper using a layered monotype process. She then researched and cataloged 77 animal species invasive to the United States and created paper cut outs of each animal from her printed papers. In all, she spent more than a year creating the 270 hand-cut pieces that comprise "Advance."
Before finding a home at the Asheville Museum of Science, "Advance" traveled nationally and internationally. It was most recently displayed in the International Printmaking Biennial at the Douro Museum in Peso da Régua, Portugal, and in the "Ink & Imagery" exhibition at Blue Spiral 1 in Asheville.
Currently, Flanders is researching and creating work that addresses the delicate balance that exists in the Great Lakes ecosystem by contrasting native, non-native and invasive species. Once complete, this body of work will include a series of mixed media collage pieces, a set of large prints and a site-specific installation. To learn more about her art, visit aprilflanders.com.
About the Department of Art
One of seven departments housed in the College of Fine and Applied Arts, the Department of Art at Appalachian State University prepares students to explore art, identity, expression and creative problem-solving while challenging them to go beyond their previous limits by discovering new connections to culture. The department offers degrees in art and visual culture, art education, graphic design, studio art, commercial photography and graphic arts and imaging technology, with minors in art history, studio art, commercial photography and graphic arts and imaging technology.
About Appalachian State University
Appalachian State University, in North Carolina's Blue Ridge Mountains, prepares students to lead purposeful lives as global citizens who understand and engage their responsibilities in creating a sustainable future for all. The transformational Appalachian experience promotes a spirit of inclusion that brings people together in inspiring ways to acquire and create knowledge, to grow holistically, to act with passion and determination, and embrace diversity and difference. As one of 17 campuses in the University of North Carolina system, Appalachian enrolls about 19,000 students, has a low student-to-faculty ratio and offers more than 150 undergraduate and graduate majors.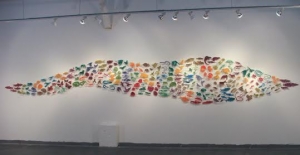 Tags: