April Flanders, associate professor of art, recently returned from the Douro region of Portugal where she installed her piece "Advance" as part of the 8th International Printmaking Biennial. Her work is featured at the Douro Museum, in Peso da Régua, with the goal of raising awareness of how invasive species affect both our ecosystems and economy.
Flanders first noticed the impact of invasive species in our region shortly after arriving in Boone in 2006. While spending long afternoons outside, she connected with the landscape and began to see the numerous invasive species affecting the region. A classically trained printmaker, she gathered invasive plants around her neighborhood and beyond to print brightly colored sheets of paper using a layered monotype process. Taking inspiration from the Encyclopedia of Invasive Species by Susan L. Woodward and Joyce A. Quinn, she cataloged 77 animal species invasive to the United States and then made paper cuts of these animals from her printed invasive plant papers.
"One of the consequences of globalization is the uninhibited exchange of plant and animal organisms across natural boundaries, she said. "This is a challenge all countries face. With my current work I ponder the implications of a globalized landscape and encourage viewers to appreciate the beauty in their own backyards."
Flanders work has been displayed regionally, nationally and internationally and uses a variety of media including printmaking, painting, drawing and installation. In addition to her recent exhibition at the Douro Museum, her work will also be featured locally in an exhibition this fall titled Books, Books, Books at the Turchin Center for the Visual Arts opening Nov. 4. To learn more, visit aprilflanders.com.
About the Department of Art
One of seven departments housed in the College of Fine and Applied Arts, the Department of Art at Appalachian State University prepares students to explore art, identity, expression and creative problem-solving while challenging them to go beyond their previous limits by discovering new connections to culture. The department offers degrees in art and visual culture, art education, graphic design, studio art, commercial photography and graphic arts and imaging technology, with minors in art history, studio art, commercial photography and graphic arts and imaging technology.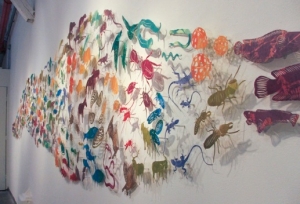 Tags: