The Washington Post recently reviewed Studio Artist and Art Faculty member, Professor April Flanders exhibition "Altered Environments" . The article called, "In the galleries: A showcase for artists who educate" highlights an exhibit at McLean Project for the Arts featuring the artwork of eighteen seasoned instructors and mentors from area institutions. The portion of the article featuring Professor Flanders is as follows:
Altered Environments


Pyramid Atlantic's gallery is up a flight of stairs, but its current show has a submerged vibe. "Altered Environments" spotlights April Flanders, a North Carolina artist who clips as deftly as she prints, draws and paints. The show's centerpiece is "Filter," made of about 2,000 tiny cutout monotypes in dozens of shapes; they swoop in nine undulating schools across two white walls. The massive yet delicate piece, a version of which was shown at the American University Museum in 2019, symbolically depicts invasive species of mussels in subtly gradated shades of blue and green.

Other assemblages combine monotypes and screen prints whose curving forms and vibrant colors evoke underwater life without representing it realistically. Flanders simulates depth by overlapping one-dimensional circles, ovals and tentacles — some in decidedly unwatery reds — or by constructing 3D demi-worlds of painted, laser-cut paper layered inside glass-topped boxes. Flanders views with alarm what's happening to lakes and seas, but she can't resist making it visually alluring.

While the main gallery displays only Flanders's art, the adjacent hallway holds works on paper by 24 additional American and Canadian artists who depict invasive species. Among the highlights are Marty Ittner's cyanotype of a blue catfish, reversed atop a maritime chart; Julie Wolfe's trio of jellyfish, screenprinted in contrasting aqua and magenta; and Eveline Kolijn's etching and linocut of several lionfish in a sea that seems to flow from a single gush of water. All three are close-ups that convey a sense of larger forces in rapidly changing oceans.
Enjoy the Full article on the Washington post website here: https://www.washingtonpost.com/arts-entertainment/2022/11/04/art-gallery-show-dc-area/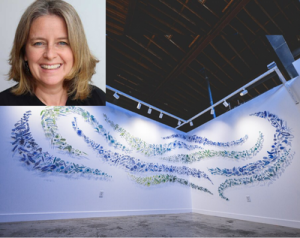 Tags: